Lady of the house wonderin' where it's gonna stop
DP Veteran
Joined

Sep 23, 2006
Messages

11,885
Reaction score

4,241
Gender

Undisclosed
Political Leaning

Undisclosed
Link to cached page of this article,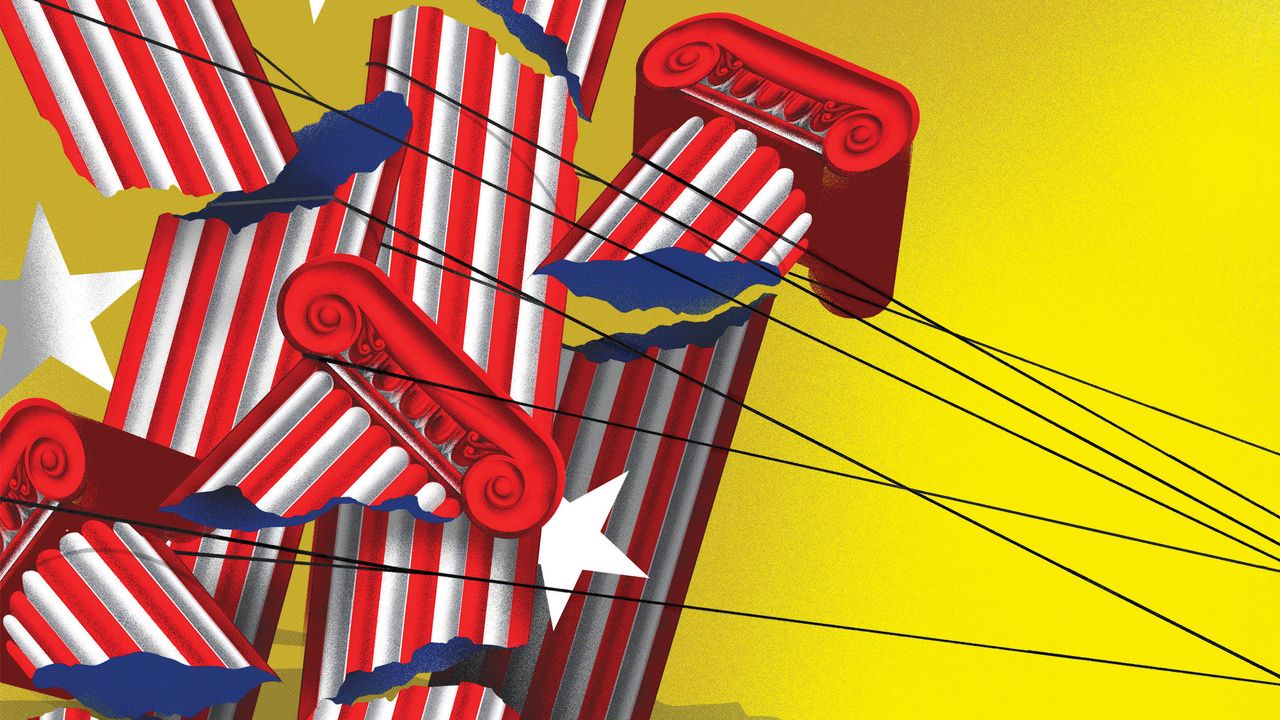 They're not MAGA. They're not QAnon. Curtis Yarvin and the rising right are crafting a different strain of conservative politics.
www.vanityfair.com
NSIDE THE NEW RIGHT, WHERE PETER THIEL IS PLACING HIS BIGGEST BETS​
They're not MAGA. They're not QAnon. Curtis Yarvin and the rising right are crafting a different strain of conservative politics.
BY
JAMES POGUE
APRIL 20, 2022
"..No one is leading this movement, but it does have key figures.
One is Peter Thiel, the billionaire who helped fund NatCon and who had just given the conference's opening address. Thiel has also funded things like the edgelordy and post-left–inflected New People's Cinema film festival, which ended its weeklong run of parties and screenings in Manhattan just a few days before NatCon began. He's long been a big donor to Republican political candidates, but in recent years Thiel has grown increasingly involved in the politics of this younger and weirder world—becoming something like a nefarious godfather or a genial rich uncle, depending on your perspective. Podcasters and art-world figures now joke about their hope to get so-called Thielbucks. His most significant recent outlays have been to two young Senate candidates who are deeply enmeshed in this scene and influenced by its intellectual currents:
Hillbilly Elegy
author
J.D. Vance,
running for the Republican nomination in Ohio,
and Blake Masters
in Arizona.
Thiel has given more than $10 million to super PACs supporting the men's candidacies,
and both are personally close to him. Vance is a former employee of Thiel's Mithril Capital,
and Masters, until recently the COO of Thiel's so-called "family office," also ran the Thiel Foundation, which has become increasingly intertwined with this New Right ecosystem.
These three—Thiel, Vance, Masters—are all friends with Curtis Yarvin,
a 48-year-old ex-programmer and blogger who has done more than anyone to articulate the world historical critique and popularize the key terms of the New Right. ...Political reporters, at least the ones who have
bothered to write about Yarvin, have often dismissed him as a kook with a readership made up mostly of lonely internet weirdos, fascists, or both.
But to ignore him is to underestimate how Yarvin's ideas, or at least ideas in conversation with his, have become foundational to a whole political and cultural scene that goes much deeper than anything you'd learn from the panels and speeches at
an event like NatCon
. Or how those ideas are going to shape the future of the American right,
whether or not Vance and Masters win their Senate primaries.
I introduced myself, and soon Milius and I were outside smoking as Yarvin and I chatted about whether he'd be willing to talk to me on the record.
...Last year the journalist Max Chafkin published a biography of Thiel, titled
The Contrarian,
in which he described Yarvin as the "house political philosopher" for a network often called the Thielverse. The book focuses heavily on Thiel's political maneuverings, describing how he evolved from being a hyper-libertarian to someone who now makes common cause with nationalists and populists. And it explains
how Thiel helped both Cruz and Josh Hawley on their paths to the Senate.
The Contrarian
ends with a dark picture of the billionaire trying to extend his political reach ever more overtly by funding and shepherding the campaigns of Masters and Vance. "Masters and Vance are different from Hawley and Cruz," Chafkin writes; the former two are "extensions" of Thiel....Vance recently told an interviewer, ... His criticisms of big tech as "enemies of Western civilization"
often get lost in the run of Republican outrage over Trump being kicked off Twitter and Facebook
, though they go much deeper than this. ..
..Vance showed up, wearing a suit and bright red tie, looking relaxed for a person who was about to give a speech to hundreds of people who viewed him as possibly a last great hope in saving the American nation from global corporatist subjugation. He'd shot up in the polls and at that moment was second in his primary,
helped by regular invitations from Carlson.."
Who do these liars, Trump, Thiel, Musk, Cruz, Hawley, Vance, and Masters think they are fooling?
Read the entire vanity fair article and then post why you don't think our future is ****ed!
Last edited: