Joined

Sep 26, 2015
Messages

6,562
Reaction score

2,769
Location
Gender

Male
Political Leaning

Liberal
Question for discussion. Where has this idea come from?
C+I+
G
+(E-I)
How does cutting G when the economy is experiencing slow growth help anything?
For example, here is Australia:
Australia enters the deflation league of sorry nations | Bill Mitchell – billy blog
The smug Australian government – conservative to the core, dishonest on a daily basis, running a daily scare campaign that all that matters is the fiscal deficit and how our AAA rating from the (corrupt) rating agencies will be lost if we don't record a fiscal surplus as soon as possible. It fails to mention that we have around 15 per cent (at least) of our willing labour resources not being utilised at present. It fails to mention that inequality and poverty is on the rise. And now, the Australian Bureau of Statistics has told us that this is a government that has finally plunged the nation into a deflationary spiral.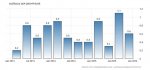 Pathetic.
Meanwhile, in Spain:
Spanish government discretionary fiscal deficit rises and real GDP growth returns | Bill Mitchell – billy blog
On March 31, 2016, the Instituto Nacional de Estadística (Spain's National Statistics Institute) published the latest quarterly non-financial accounts for the institutional sectors and the data for the – General Government Sector – revealed a 56,608 million euro deficit for Spain's government sector.
That is equivalent to 5.2 per cent of GDP, much larger than the 4.2 per cent that the last deal with the European Commission stipulated (as above).
As El País reported:
Spain's 2015 public deficit came in at 5.2% of gross domestic product (GDP) … The €56.6 billion shortfall means that Spain has exceeded its target of 4.2% of GDP agreed with the European Commission by around €10 billion …
Still, 2015 was also a year in which economic growth surpassed all forecasts and tax revenues jumped significantly.

The article doesn't draw out the obvious causality – higher fiscal deficits courtesy of higher social spending in the regions, higher expenditure on health services, and some large scale public infrastructure projects have driven the higher growth.
Win-Win.
Why call the rise in the deficit above the fiscal rules as "exceeding gloomiest forecasts" just goes to show the bias in the reporting.
I don't even need to discuss the failure of Austerity and the horrific actions of the IMF.