Joined

Jun 18, 2016
Messages

785
Reaction score

407
Location
Gender

Male
Political Leaning

Other
I worked a wedding yesterday, and it was a harried affair.
In-laws and outlaws from out of town, people scampering everywhere.
We were in a large hotel attached to the international airport, and things were hopping.
To get to the wedding, you had to walk past a greeter, thru the bar/pub area, and into a carpeted hallway where the wedding ballroom and food serving foyer were.
The thing is, you see, the floor in and around the tables in the bar was
sticky.
(Somebody had spilled a Coke or something the previous evening, apparently, and it hadn't been mopped up correctly.)
The floor looked okay, but it was very sticky, for the entire length of the bar floor.
I got things organized for the nuptials, shook hands, kissed babies, and got everything ready for the wedding service.
*schrrch* *schrrch* *schrrch*
went everybody's shoes as they came and went, as we all waited for the bride and her hens to come down and get things started.
The food servers, bartender, and the manager/greeter-girl all traversed the sticky floor as they went hither and yon.
*schrrch* *schrrch* *schrrch*
went their shoes as they walked thru, getting the ancillary bar set up.
None of them seemed to mind the disturbingly-sticky floor.
A half hour before the wedding was supposed to start, I flagged down the manager/greeter girl.
"Hello ma'am, I hate to bother you, but this floor here where the bride and her maidens will soon be walking is quite sticky. Can you call housekeeping and ask somebody to come mop it up real good?"
"Oh, uh, I, uh, hadn't noticed."
"Yeah, look, this is a very special day for the bride and her family. People should remember the service, the tasteful decorations, and the beautiful spread of food that you guys have prepared for the day. What they SHOULDN'T remember is a horrible sticky floor, and how the hosting hotel didn't care enough to get all the details right."
"Okay, I'll go get one of the kitchen boys to come mop that right now."
"Thank you."
Sure enough, one of the lads from the back came out and squared the floor away, and the wedding went on without a hitch.
To the original question.
What is
with
people?
I have noticed more and more in recent years that self-awareness, company pride, good customer service, and neatness have become obsolete concepts.
Fast food workers walking thru a messy dining area and not pausing to pick things up.
Strip mall parking lots full of litter and debris.
Indifferent store clerks rolling their eyes whenever you ask them to exert a little effort for you.
Is it just me, or is this becoming a universal thing?
:shock: :doh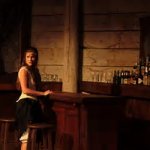 Last edited: