Joined

Sep 16, 2009
Messages

2,922
Reaction score

343
Gender

Male
Political Leaning

Conservative
So-called 'Foreign Aid', the only Government expenditure to be ring-fenced, never mind escaping savage cuts, should now be MANDATORILY dished out to nations demanding it.
From now on, the likes of African dictators and swindlers from the Indian Government will be GUARANTEED their allowances from Britain, totalling TEN BILLION POUNDS per year!
And what will be the qualifier for these responsible recipient nations to recieve this Santa's Giveaway?
Concessions on trade agreements for example?
No.
Work?
Oooh, no no no.
Taking back some of the immigrants which even the Government advisor on immigration, Professor David Metcalf, says are coming in too thick and fast?
HOW DARE YOU BE SO WAYSIST AND FASCIST!
Protect foreign aid by law, says Clegg: Giving money is in our self interest, he tells UN | Mail Online
http://www.google.co.uk/search?hl=e...f+immigration+cap&aq=f&aqi=&aql=&oq=&gs_rfai=
In his speech the berk said "We can't cut ourselves off the rest of the world .. susceptible to extremism, runaway inflation, environmental degradation".
Are not those problems applicable here on his doorstep? We're told that we are by the very political class Clegg helps lead. Yet this is the excuse given to allow one of the world's fastest growing economies, plus a clique of hypocritical human rights abusers on the African continent, to gleefully receive the precious tax money flushed from our economy like so much waste product.
_____________________
Meanwhile.....
Bristol war veteran 'not ill enough' for care cash | Bristol News
Lack of funds hampers breast cancer breakthrough - Scotsman.com Living
Lack of funds spells end of Elmbridge play scheme - News - getsurrey
Lack of funds puts nuclear subs in danger of
,
etc.
Mind you, some things are worthily jettisoned:
Coalition dumps Labour pledge of broadband for all of Britain by 2012 - Business News, Business - The Independent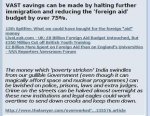 13th Spitfire: What we could have bought for the foreign "aid" money
Or, if you like, we will be lacking 450,000 new nurses* because the Foreign Aid bill simply MUST be spent, else the Government would have itself in court!
What a shambles, what a waste... what a Britain!
___________________________
* According to today's Daily Mail, page 2.
Last edited: