I'm not proud of being a prick, it hasn't served me well in RL. In RL I don't usually turn into a prick until… Well, until it becomes necessary for whatever reason. I won't usually 'start it', see? If you're being a jerk, I'm eventually going to tell you, and you're probably not going to like it. This has been my experience, anyway…
Discussion forums could potentially be an incredible resource – a way of being part of the system, of 'protesting' with thought and exchanging of idea's, not bricks through windows in ignorant mobs turned easily out of control. But discussion forums, public online discussion in general, seems to largely be bricks through windows in ignorant mobs out of control, none of us thinking
we're
ever part of the mob while we judge…
It's slightly different in RL, when you've got an actual person in your presence who can react instantly, so we throw our ego's around a little easier here. Good fun, and I
have
learned things here, met some nice people, have some fun, so don't get me wrong. But, I noticed quickly that my gentler approach to a very serious problem didn't fit so well, and that people like me were the butt of everyone's jokes, even in forums designated for the topic. That's where I was naïve…
The conspiracy forum is the place to go if you want to be a jackass in a much more lenient environment. At least I don't see the same behavior so easily resorted to anywhere else. Feeling a little s**tty about yourself? Go rib a 'nutjob' with a one-liner at their expense, maybe get a 'likes' from your friends, don't stick around for a real debate that you already feel you've won, which I guess is pretty easy when you ignore
mountains
of evidence with smiley ROFL's and exclamation points to stress how important what you're saying is...
Seriously, I'd love to know where those feelings of superiority come from, because I'd be
f**king embarrassed
. I
am
embarrassed, like watching you think you can sing. Try that kind of tactic in court for a credibility check, partner - it doesn't work for us little guys. You want to feel better about yourself? - you're going to have to bring much better game with me. See my first paragraph.
I'm starting to think the smarter folk are simply polite enough to let me have a pretty wicked pre-mature or overdue 'mid-life crisis' in public over here, even though they could debate me very worthily, probably even make an ass out of me if they wanted – with
real
information, not personal attacks, dig?
That's
how the 'big boys' play where I come from.
Above ground, I'm always 'derailing' because I see a much bigger picture being neglected by the ignorant mobs out of control. I know I come off as a 'know it all', a buzz kill, not sure if I'm too ridiculous or dangerous to deal with. Trying to be too civil about telling you about a bigger picture that I think you're missing, or what an immature dick I think you're being while I condescend to think you're not capable of being on my level to know you've been conned, which is basically the opposite of what I think, no matter how nice I try, a bigger stone in the pond. Here, this medium, this day and age, it simply works better if I'm a bigger dick than you. But I hate that, and trust me, I'm a grande, non-fat, no-foam, triple-shot Latte, too.
You feelin' me?
I'm the kind of
woman
you call 'asshole'…
I can better control the ass I'm going to make of myself in a blog, without actually getting sucked into ridiculous behavior with 'trolls', or confronting
real
people on what I figure disturbs some so badly they can't reason (or they're paid), while I use the experience with trolls and RL assholes or friendly's to 'choreograph' the typical arguments or points I ran/run into. Full-bodied flavor, half the frustrating calories, see?
Not that I think what friendly's are doing in conspiracy forums is a waste. Not at all. I wish I had the time and gusto to do that too. It's a lot of work. There are some solid posters in the conspiracy forums who probably don't get enough recognition for the many hours behind some of those posts and links, not that it really matters to most of them. But, a shout out to those attention-whores causing trouble by speaking out politely with information and idea's, on fame-procuring internet conspiracy forums, of course…
I'm in a different zone, that's all. Clearly, I
am
an attention-whore. Nah, I'm just digesting, a different angle appeared, I'm using it. I still want people thinking a tiny bit differently, I don't even care if they agree with me or not. I've planted the seed, someone bumping into this kind of information for the first, second, or third time, maybe motivated to think and look a little deeper, like I did on my third nudge.
At the very least, they might remember this wacky blog one day, when someone more important to them brings other information to their attention. That's all I assigned myself with this go around. The rest is just fun, fun, fun, or I
would
go insane, no doubt.
I don't want to write a book, I don't really consider myself a writer, per se. But, I have something to weigh that
you
should weigh, and other's too can take away, just for cliché, if that's their forte. A.k.a, I don't want to be all hooray, hooray, with bookish ballet under my toupee, to think much worthy in my dossier, or I'm apt to display as soufflé for play, without the sorbet or overstay, while we ponder our very real naiveté. I sometimes can't tell I've spelled 'when' right, ok?
Eyyeah, but all of it, all the confusion, the real horror, the 'munchkins', clearing my conscience, reaching, all of it coming so easily together in twisted words of so much gut-grabbing thought and flavor… Energy.
It's
always
been losing all meaning to me, these rules, these words, these boundaries. Dust in my hand. Dust in my wind. Faster than blinding light, I see
beyond
infinity. I am thundering speed and everything still. I
stand
at speed. No here, no there, no hypocrisy. I see infinity can't be encapsulated and understood with a word – then I encapsulate it. Yum. It's only the view that makes me look down. I see all. There
is
no anarchy. Just energy…
Inconsiderable, but important
most
singularly
.
Energy
. I can brush it away, but it
never
escapes me. I
lift-off
from the
edge
of energy's infinity. I brush
myself
away. I am no one, nothing, no one nothing, everyone, everything, every one thing and one, you and I, we and we, cacophony, symphony, anarchy, harmony,
insanity
, all in me,
energy…
We
made
the Gods. Do you see?
We'll shine
down
on the Gods. You
will
see.
Energy
eace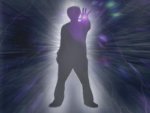 ​