In reading about W.C. Fields, I wonder if Trump did not see him as an idol. He certainly looked somewhat like Trump.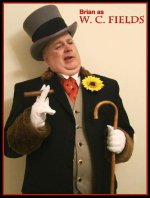 Here are some of W.C. Fields quotes:
"I never met a kid I liked." — W.C. Fields
"I like children – fried." — W.C. Fields
"A rich man is nothing but a poor man with money." — W.C. Fields
"Anyone who hates children and animals can't be all bad." — W.C. Fields
"I am free of all prejudices. I hate everyone equally." — W.C. Fields
"Women are like elephants. I like to look at 'em, but I wouldn't want to own one." — W.C. Fields
"Never try to impress a woman, because if you do she'll expect you to keep up the standard for the rest of your life." — W.C. Field
"Children should neither be seen nor heard from — ever again."
— W.C. Fields
"No doubt exists that all women are crazy; it's only a question of degree."
— W.C. Fields
And here is one that Trump fell in love with ever since he was a child and he saw this W.E. Fields quote: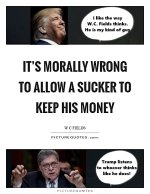 .
Do these quotes remind you of Trump?
W.C. Fields was a funny man though, and it is sad that is not one of the traits that Trump got from him.
Last edited: