Master of Shenanigans
Administrator
Moderator
Dungeon Master
Supporting Member
DP Veteran
Monthly Donator
Joined

Oct 12, 2007
Messages

52,847
Reaction score

36,742
Location
Gender

Male
Political Leaning

Independent
After a lot of testing (and by a lot, I mean "a lot a lot"), we are moving forward with the software upgrade from vBulletin 4.x to xenForo 2.x. The plan is to take the site down this coming Thursday evening (9/17/20) to start the conversion. It will take 2 or 3 days to perform the initial import, re-index, import the likes, install more add-ons, tweak the settings and do even more testing. That will mean that DP will be down until Sunday (9/20/20) most likely.
This weekend I will be making instructional "how to" threads. Some of the terminology has changed, but the content is the same. PM's, likes (total # of), posts, threads, forums all carried over. Blogs carried over (but are in a forum format - for now). The only two things that won't transfer are the "Groups" from the 'Community' link above and the Albums on each user's Member Profile page (hint: if you want to save any of those pics, download them now).
Below are some screenshots of the various "styles" we will be using initially. We may add more down the road, but that isn't a "showstopper" like getting the search to work, likes imported, etc... There will be a thread created for "bugs" if they are detected and a thread created for suggestions. Thanks for everyone's patience as we've been working on making this a reality.
xF Default: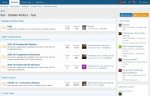 DP 3.0 (in progress):
Shades of Blue: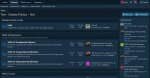 Shades of Grey (my personal fave):