Joined

Oct 22, 2019
Messages

2,924
Reaction score

4,505
Location
Gender

Male
Political Leaning

Progressive
More than two months ago, Vanita Gupta was nominated by Joe Biden to serve as Associate Attorney General, one of the top positions at the Department of Justice. Gupta's record isn't especially controversial outside of the usual Republicans whining about people saying mean things about them on social media. Apparently they all woke up in January and realized Twitter was a thing. Her nomination is supported by pretty much every conceivable law enforcement entity in the country, including the Fraternal Order of Police. She has spent her entire life working as an advocate for historically marginalized groups and would make an excellent third in line at the DOJ.
So, why has her nomination taken so long to get through Congress? Why, even today, are zero Republicans on the Senate Judiciary Committee willing to advance her nomination?
It all goes back to Tulia.
In 1999, there were a series of police raids in the small Texas city. 46 people were arrested....the vast majority of them black. It amounted to nearly 1 in 8 members of the entire city's black population The few non black arrests were either white or Latino romantic partners of black people. They all stood accused of being part of some massive cocaine distribution ring and were taken down after an undercover investigation by a law enforcement officer named Tom Coleman. He had allegedly spent a year and a half posing as an ex convict looking for hard drugs, and now it was time for his investigation to bear some real results.
Strangely enough, no actual drugs or money one might expect to find in some massive operation like this was found. He hadn't worn a wire and no other officers had really been there to corroborate his stories. No, the entire case was based on the word of Coleman. And despite this lack of any real evidence, dozens of people were rounded up in front of the television cameras, the locals papers declared the streets were now "free of garbage", and the accused were convicted and sentenced to decades in prison. Joe Moore, a 60 year old local hog farmer, was portrayed as the kingpin of the entire operation and given a sentence of 90 years. One poor soul was given more than 3 centuries of jail time. Coleman was so lauded for his work that the entire state honored him by naming him "Officer of the Year", an award handed to him by then Texas Attorney General John Cornyn.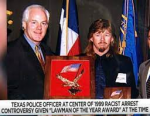 Thankfully, these people had someone like Vanita Gupta on their side. She began to scrutinize Coleman's accounts and realized they didn't really hold up at all. One woman he had accused of selling him drugs was at a bank miles away making a withdrawal at the time. Another gentleman was more than 50 miles away at a local fair. And after Coleman's history of racism came out, his entire story totally unraveled. By 2003, all of Gupta's clients had been released and Coleman was the one facing perjury charges. A local judge referred to him as "the most devious, non-responsive law enforcement witness this court has witnessed in 25 years on the bench in Texas."
And so here we are, nearly 20 years later. Vanita Gupta's nomination sits before the Senate Judiciary Committee that the now Senator John Cornyn sits on. The man who honored a crooked, racist cop and was publicly shamed when all of the cases came crashing down. I'm sure he can come up with a dozen excuses as to why he is fighting so hard against her, but it should be obvious to anyone paying attention. He represents everything wrong with law enforcement in America while she has a history of standing up for the little guy. She took down his man and made a fool out of him, so now she has to pay.
Former Undercover Drug Agent Tells His Story To <b>60 Minutes</b>
www.cbsnews.com
Last edited: