The UEHAC shall be a body whose role is to advise and offer compromise on international issues. Its mission includes providing constructive reports that open up more opportunities for compromise and further positive development among all participating parties; the UEHAC does not issue rulings or provide conclusive findings. No party is "punished" and no party "gains".
It does not issue commandments that both parties must obey. It does not investigate anything on the behest of anyone; the UEHAC is to only serve as a medium for conflicting parties to meet on a common ground for open discussion, compromise, and resolution.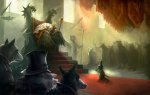 The UEHAC can be first tested on the North Korea problem. The UN clearly did not work on this country.
Also, the UEHAC will be the predecessor to a United Earth world government.