Respected On All Sides
DP Veteran
Joined

Jun 20, 2008
Messages

102,585
Reaction score

90,781
Gender

Male
Political Leaning

Independent
It's not guaranteed that if Trump leaves office all of this will magically come to an end. But there's one thing that is guaranteed: this
can't
end until Trump is gone.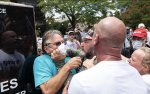 Paul Benson, attending a rally for Democratic candidate Hank Gilbert in Tyler, Tex., is attacked by Blue Lives Matter protesters on July 26. Benson says he was trying to keep counter-protesters back from the speakers when he was attacked. "I didn't expect this," Benson said, "I didn't know what to expect, but I didn't expect this."
TYLER, Tex. — The goal of the rally was to oppose the deployment of federal agents to quell protests in American cities — and to register new Democratic voters here in the heart of conservative East Texas.
But it had hardly begun when hundreds of conservative counterprotesters and supporters of President Trump, many with military-style rifles slung over their shoulders, swarmed the town square and began pushing and shoving and yelling obscenities.
One man punched Democrat Nancy Nichols in the chest, she said, and three others pinned her husband against Tyler's war memorial. Other armed men were positioned around the edges of the square in military-style defensive formation, their hands clutching their rifles.
"They were yelling Democrats are f---ing idiots and Democrats are demons," recalled Nichols, 65. "It makes me feel angry that this is allowed and that our police are allowing this kind of hate-filled atmosphere to take over.
"Nancy Nichols, a Democratic activist and voter deputy registrar, said she was punched in the chest by a counter protestor at Gilbert's rally. "It's honestly made me more hopeful. Let's bring it all to the surface so it can be healed," said Nichols, who posed for a portrait at her home in Tyler on Wednesday. (Julia Robinson/For The Washington Post)
The scuffling, which injured a top aide for Democratic congressional candidate Hank Gilbert, is part of a wave of politically tinged violence across the nation in recent weeks after the death of George Floyd in Minneapolis, rattling communities facing a toxic mix of partisanship and guns ahead of the 2020 election.
In a spate of exchanges that have spanned from Kalamazoo, Mich., and Bloomington, Ind., to Chicago and Portland, Ore., people on both sides of the United States' political and cultural divide have been filmed exchanging punches, beating one another with sticks and flagpoles, or standing face-to-face with weapons, often with police appearing to be little more than observers.
https://www.washingtonpost.com/nati...high_protestviolence-630am:homepage/story-ans
Last edited: