long standing member
DP Veteran
Joined

Dec 22, 2005
Messages

59,017
Reaction score

39,905
Gender

Male
Political Leaning

Independent
title in full:
​Two million federal workers receive memo warning they can't use the word 'resist' or discuss Trump impeachment at work
All federal workers have received a memo warning that they cannot discuss the possibility of Donald Trump being impeached at work,

reports the New York Times. The memo went out Wednesday to about 2 million workers.


The memo said it was "illegal for them to participate in such discussions at work," the

Times

reports.




...

"Advocating for a candidate to be impeached, and thus potentially disqualified from holding federal office, is clearly directed at the failure of that candidate's campaign for federal office," the memo said.

Because Trump is already running for re-election in 2020, the letter contends that arguments about his policies or impeachment prospects are "effectively statements in support or opposition to his campaign," the paper reports.

The memo also tells workers they cannot use the word "resist."

"We understand that the 'resistance' and '#resist' originally gained prominence shortly after President Trump's election in 2016 and generally related to efforts to oppose administration policies,"the letter said. "However, 'resistance,' '#resist' and similar terms have become inextricably linked with the electoral success (or failure) of the president." ...
https://www.rawstory.com/2018/11/tw...scuss-trump-impeachment-work/?comments=disqus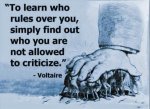 to me, this message to federal workers was unnecessary. feds subject to the hatch act - almost all of them - are annually briefed about the prohibition to bring partisan politics into the workplace
is team tRump running scared
...

In any administration, one man's principled resistance is another's outrageous defiance. Sen. Jeff Sessions (R-Ala.), Trump's nominee for attorney general, said in 2015 that it is the obligation of a federal worker to stand up against improper orders.


In a confirmation hearing for Yates, Sessions said: "You have to watch out, because people will be asking you do to things you just need to say no about. . . . Like any CEO, with a law firm — sometimes the lawyers have to tell the CEO: 'Mr. CEO, you can't do that. Don't do that.' " ...
https://www.washingtonpost.com/poli...87d6e6a3e7c_story.html?utm_term=.d37a7a467986
...

standing up for what is right can have consequences. Federal employees know they can be right and right out of a job. ...
https://www.washingtonpost.com/news...ral-employees-dilemma/?utm_term=.788770c0bbb4
while i disagree with those who insist tRump was wrong to send out that warning, that he can does not mean it was a good idea ... unless it was intended to be intimidating. and then it would be [your opinion here]