Proud AmeriCAN
Banned
DP Veteran
Joined

Feb 6, 2018
Messages

8,529
Reaction score

3,422
Gender

Undisclosed
Political Leaning

Undisclosed
I'm going to strengthen what I've done and do new things
That's straight from NPR this Morning.
Translation: "I'm going to **** things up worse and pull some more ****." :shock:
Yesterday my wife, a sweet reserved woman - never speaks bad about anyone, found out one of her best friends, a health-care worker, contracted COVID; we're just dispondent about it.
Anyway I said we'll be lucky if we get through this without getting sick. She, my wife, responded; "what's more ominous is Trump getting reelected."
Trump's reelection is more frightening than death.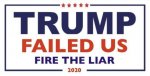 Sorry for the dbl image, site is lagging; maybe it needed twice.
Last edited: