Gadfly Extraordinaire
Banned
DP Veteran
Joined

Mar 3, 2018
Messages

16,876
Reaction score

7,397
Location
Gender

Male
Political Leaning

Liberal
This whole narrative "Democrats stealing the election because of 9 discarded ballots" is a total fabrication.
This is what happens when you have lying & cheating politicians who have no sense of decency at the helm of the ship of state.
It wouldn't be so bad, but it is the President and his AG that are behind it, and the jig is up, it's all smoke and mirrors to forward a narrative
that there is rampant voter fraud ( sorry, there just isn't ) and thus mail in voting must be disbanded.
We caught you (Trump & Barr) in your devious scheme. And, Max Wolking, you're a dishonest chump, too.
He deleted the tweet, but we caught it just in time to show what a LIAR he is willing to be to forward a bullshit right wing agenda.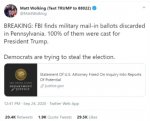 "There's a big difference between what happened in Luzerne County and systemic fraud that says you can't trust the result of the election," said Ben Ginsberg, a longtime election lawyer for Republicans.

Ginsberg said the Luzerne irregularities "absolutely" warrant investigation, but he also said officials need to distinguish between willful fraud and a simple mistake.
Truth be told, the whole affair was caused by Trump suing over 'naked envelopes' and that led to the accidental toss of the ballots as they didn't contain the inner envelope (thus they were 'naked') which was why they were tossed. It's kinda complicated, but that's the long and short of it. The whole thing was innocent. And now, Trump and Barr, like the buffoons of keystone cops they are, SEIZED ON IT like hyenas on a dead carcass ('xcuse the mixed metaphors
) .
I'm uploading the Chris Hayes segment which exposes , in great detail, the above, but it will take about an hour to get it uploaded, and MSNBC won't have it uploaded until tomorrow. I will post another OP as a video follow up on this story.
A federal prosecutor said he was releasing the information because of its "vital public importance" in the weeks before the presidential election.
www.nytimes.com
Justice Department policy calls for keeping voter fraud investigations under
wraps to avoid affecting election outcome...

"The question of who voters voted for would be immaterial in any kind of tampering investigation,
and it seems to be in there for political reasons, to bolster the president's arguments that the election is being rigged against him,"
said Richard L. Hasen, a professor of law at the University of California, Irvine.