l had made it a few months ago and decided to try again . instead of tia maria l used baileys irish cream and rum flavoring .it is both healthy and yummy!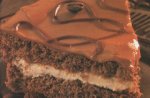 3/4 cup All purpose flour
2 tbsp instant coffee powder
3 eggs
1/2 cup superfine sugar
coffee beans, to decorate (optional)
for the filling
3/4 cup low fat soft cheese
1 tbsp clear honey
1 tbsp Tia Maria liqueur
1/4 cup stem ginger, roughly chopped
for the icing
1 3/4 cups Confectioner's sugar, sifted
2 tsp coffee extract
1 tbsp water
1 tsp reduced fat cocoa powder
method
1. Preheat the oven to 190°C/375°F. Grease and line a 8 inch deep round cake pan. Sift the flour and coffee powder together on to a sheet of greaseproof paper.
2. Whisk the eggs and sugar in a bowl with a hand-held electric whisk until thick and mousse-like. (When the whisk is lifted, a trail should remain on the surface of the mixture for at least 15 seconds.)
3. Gently fold in the flour mixture with a metal spoon. Turn the mixture into the prepared tin. Bake the sponge for 30 - 35 minutes or until it springs back when lightly pressed. Turn on to a wire rack to cool completely.
4. To make the filling, mix the soft cheese with the honey in a bowl. Beat until smooth, then stir in the Tia Maria and chopped stem ginger.
5. Split the cake in half horizontally and sandwich the two halves together with the Tia Maria filling.
6. Make the icing. In a bowl, mix the Confectioner's sugar and coffee extract with enough water to make a consistency that will coat the back of a wooden spoon. Pour three-quarters of the icing over the cake, spreading it evenly to the edges.
7. Stir the cocoa into the remaining icing until smooth. Spoon into a piping bag fitted with a writing nozzle and pipe the mocha icing over the coffee icing. Decorate with coffee beans, if liked.
Tia Maria Gateau recipe