Tremendous progress continues to be made globally in a number of important areas such as human health and life expectancy, crime, poverty, and pollution.
This is elaborated upon in a
video of a talk
by Steven Pinker of Harvard University.
For example, the prevalence of extreme poverty is plummeting world wide: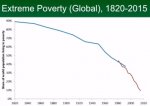 A higher proportion of people live under democratic governments than ever: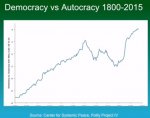 And so on.
If you don't know about this tremendous and heart lifting progress you probably get your news from the mainstream media, which has been putting out an increasingly negative cast on world events.
Pinker thinks that this negative reporting is promoting a loss of faith in government and in nations the world over that results in political changes such as Trump's election, Brexit, and the like. There is an awfully lot of good news that the news media is just refusing to report, and there are a lot of people who refuse to believe good news.
Always predict that doom is at hand and you'll
earn great profits
be hailed as a great prophet.