It's probably obvious why I landed on 'Head Munchkins' to describe 'them'. Some people call them 'the elite', 'the illuminati', 'the shadow government', 'the freemasons', whatever….
I don't particularly follow the 'occult' side of things, though there is evidence to suggest our leaders are into some pretty weird, dress up in dark hooded robes, fire and brimstone sounding chanting, mock sacrifices, kind of stuff. Skull and Bones, Bohemian Grove. I haven't looked much farther into it, but it does look kind of satanic at first glance, and those involved don't like to talk about it, or admit they aren't allowed to talk about it, whatever…
But some do believe 'they' are satanic overlords, or shape-shifting aliens, descendants of Gods… I haven't seen conclusive proof of that, nor have I really looked. I have it written off as religious crap that maybe they think they get power from, but doesn't really affect the machine of the conspiracy, is only a detriment to getting attention drawn to the seriousness of the rest of the subject... Maybe demons will explode through the ground one day, and I'll regret that I wasn't ready, but I can barely wrap my head around what I can prove…
Some get into DaVinci Code-type stuff, the Templars, Freemasons, Holy Grail, and all that… I don't know much about this, I don't follow it. To me, 'they' are the elite industrialist, and banking families. The Rothschild's, Rockefeller's, Windsor's, etc… There may be one or two people at the very top who the buck stops at, but I don't know about that either. My guess is they are human if they exist…
Any reference to 'Secret Societies' is in reference to Council on Foreign Relations, Bilderberg, Trilateral Commission, PNAC, Skull & Bones, and the likes – organizations that exist today, not entirely secret, but secretive…
Mostly, 'they', or the 'Head Munchkins' is a collective term to represent the intentions of the conspiracy as a whole. I may use the terms when discussing corporate or government levels that have no idea of the conspiracy…
I don't think everyone in the government, banking, corporate, military, media world are bad people completely in on the plan. Most are oblivious, some know and don't care with their fat salaries and prestigious memberships, some are scared to talk, some find out but have a family to provide for… They're human too, feel just as trapped, maybe more. But they will push through laws and programs and wars that benefit the Head Munchkins, knowingly or not. They can't be trusted to make the correct judgments or even know what they are doing, that's all...
As far as names go, well that's another subjective and complicated matter not easily summed up in a first and last name. Think of credit card companies abusing their fine print. Or theorists who want to place Head Munchkins in one of the 30something degrees of Freemasonry…
These people move around, get around, and you can't tell exactly if a President is more or less 'powerful' than a deputy something at a World Bank post, or who 'owns' who. The 'titles' of people's positions doesn't really mean anything, it's the old boys club. They could be sitting in a steam room in Switzerland, talking about who they're gonna make American President in 2012. That is where much theory and wasted debate could be spent, but it doesn't help…
It's the systems they work within that count and have to be dismantled, or at least recognized for what they are. If you do research, you'll likely see a lot of the same names. Some you'll recognize easily, some you'll never have heard of…
My observation tells me these people often have a common link in those 'secret societies', have been photographed meeting together in secretive meetings, releasing documents through their influential organizations that make suggestions on the country's direction, and the country seems to move in that direction with stunning accuracy and efficiency while these people move in and out of very influential, global and domestic, government and corporate, positions all the while, us continually complaining our government never listens to us…
It seems you munchkins have another mental block going on or something with these organizations. Corporations you didn't vote for are rearranging the whole ****, owning everything right down to the last terminator seed, and cell that produces life, crushing and pissing on everything in their path to get there.
Maybe you're a staunch capitalist, think corporations should be running things, government is disgustingly bloated and slow, the 'market' figures everything out. You either don't know, don't care, or you're a munchkin making excuses. They are hiding knowledge from you, they're using you, milking everything they can from you. They don't care about you one ****ing chode…
Peace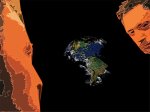 ​