Joined

Jul 6, 2013
Messages

417
Reaction score

54
Gender

Undisclosed
Political Leaning

Undisclosed
These clever elephants in the circus ... What are the strengths smart ...
But no one suspects that their whole life, from birth takes place in the suffering. This so-called "Ringling"( Foto-1), which breaks the spirit of elephants when they are still quite vulnerable.
The first six months of baby elephants tied by the feet to the ropes, which are in constant tension and a lot of pressure on your feet. This period ends when the baby elephant gives up and stops fighting for their freedom.
Once weaned from their mothers, elephants legs tied to the floor in a separate barn and kept so by 23 hours a day to break the elephant psyche.
The initial obedience training includes an introduction to the elephant noose. At this point, it is surrounded by six or seven people, and he is tied by the neck to an adult elephant, "anchor", which is already implicitly obey men. When the elephant got the basic skills of submission, he begins a new stage - stunt training. This is a daily practice for 2-3 hours. At first baby elephant cries and can not be training, but all the time. Ropes and time will put everything on the usual place for a man.
In the words of a professional : "If you ask me what I think of my work, I'll answer ... I'm ashamed of what I did ..."
In this case, the "coach" uses electric shocks directly to the head of a baby elephant. (Fono-4)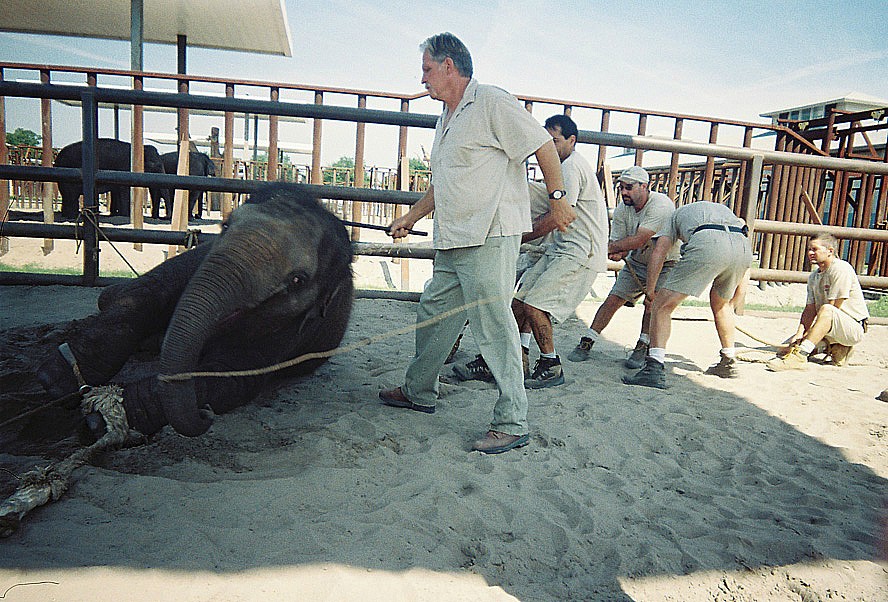 For elephants it is unnatural and forced them to go against the nature of the use of physical punishment.
With electroshock batons and choke and force 6 male elephant is taught to perform a trick "to lie down, stand up" (Foto-5)
It was only after the training is teamwork.
And what do you think now, elephants in the circus that's cute??
Sick humanity.
http://bart.livejournal.com/2110901.html