The Dems need to concentrate on taking back the HofR
. It's the only way to assuring the passage of legislation that renews the country. Presently, the latest HofR voting share was 43% vs 57%, in favor of the Replicants. That has to be reversed.
Of the HofR total Democrats, only 28 Representatives are members of the Congressional Progressive Caucus (of which Bernie was the only Senate member).
I suggest it is time for the US to formulate, within the Democrat Party, a subset of Social Democrats consisting of CPC members. And the Dems should strive at the local level to promote Social Democrats, where they can, towards electing them as members of the HofR.
That's how we can move America forward and repair the neglect and damages of the past 30-years since Reckless Ronnie was PotUS.
We must start first with the aberrant system of taxation and its upper-income flat-rate; which functions as the money-pump of Income into Wealth.
Here is how that Money-Pump works, from figures compiled by the Census Bureau: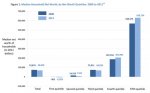 Note the breakdown by quintile (5, each 20% of American households):
*Poorest quintile with a negative Net Worth*.
*The 3rd-quintile is 9.4 time that of the 2nd-quintile.
*The 4th-quintile is 3 times that of the 3rd quintile, and
*The 5th-quintile is 3.1 times that of the 4th quintile.
With a more fair taxation of Net After-tax Income that becomes Wealth, and then (less Debt) becomes Net Worth would see those disparities lessen.
Yes, Fair Income Taxation is "Robin Hood". We take from the rich and give to the poor. Because the present tax system unfairly allows too much of Net After-tax Income to become the Wealth of a select group of families. And it has been like this since Reckless Ronnie
changed drastically
the taxation of upper-incomes in the 1980s. (See
here
.)
*Negative Net Worth means that a household's liabilities exceed their assets. It is therefore
Total Impoverishment of 20% of American households, or 27 million families, or 69.7 million fellow Americans.
__________________________
Last edited: