Joined

Feb 4, 2019
Messages

1
Reaction score

0
Gender

Male
Political Leaning

Undisclosed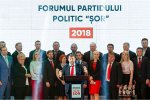 Parliamentary elections in Moldova will be held on 24 February 2019 and it is likely three political forces will take the majority of seats in the new parliament. The oppositional Party of Socialists of the Republic of Moldova, that supports reestablishment of close relations with Russia, is considered as the leader of election race. The other opponent to the ruling regime is the right bloc ACUM backed by the West. As political analysts predict, the ruling Democratic Party of oligarch Vlad Plahotniuc also has chances for substantial presence in the new parliament.
According to the surveys, Moldova's ruling regime due to its roaring corruption and democratic degeneration is equally unwanted by the Moldovans, West and Russia. It would appear that regime is doomed. But Moldovan politics have some distinctive features and the Şor party is among them, and the party is also Plahotniuc's new hope to repeat the effect the Our Party achieved during the 2014 parliament election shortly before it was suspended from it.
Ilan Şor, the leader of Şor party, is an affluent businessman with wide connections in Russia and Israel. In Russia he banned from entering the country for a few years because of the losses his illicit financial operations caused to the Russian banks. In 2017 the Chisinau Court sentenced him to 7.5 years (public prosecutor demanded 19 years) in prison for wheeler-dealer finance including the bank fraud scandal of $1 billion (which is equivalent to 12% of republic's GDP) disappearance ahead of parliament elections in 2014. At the time of fraud all involved banks were connected to Şor. As the result of his actions Moldova's budget took significant financial blow.
At present Şor successfully escapes his punishment because his defense protracting the process by not giving notice of appeal as they planned. Apart from that in 2015 Şor was elected as Major of Orhei and lives a stirring political life - his party's rating is close to a 6% barrier. It stands to mention the ambiguity of Moldova's legislative system that allows convicts to avoid punishment and the same time to participate in the elections and holding political posts.
The truth of the matter is that Şor is a typical oligarch without political views and ideological beliefs who is forced to be friends with Plahotniuc and be politically active to avoid the real legal prosecution. Will the Moldovan voters get into the true motives of Şor and his party? The issue remains open.