My son made me aware of this article this morning and upon reading it, it struck a cord of reality that was impossible to dismiss.
Within the article, there is one comment that sums it all up in a short phrase
"Social media has both magnified and weaponized the frivolous"
The article is worth reading as it clearly shows how social media has split us apart, as far as having a Red America and a Blue America.
Here is an example of that:
Recent academic studies suggest that
social media is indeed corrosive to trust in governments, news media, and people and institutions in general.
A
working paper
that offers the most comprehensive review of the research, led by the social scientists Philipp Lorenz-Spreen and Lisa Oswald, concludes that "the large majority of reported associations between digital media use and trust appear to be detrimental for democracy." The literature is complex—some studies show benefits, particularly in less developed democracies—but the review found that, on balance, s
ocial media amplifies political polarization; foments populism, especially right-wing populism; and is associated with the spread of misinformation. Finally, by giving everyone a dart gun, social media deputizes everyone to administer justice with no due process. Platforms like Twitter devolve into the Wild West, with no accountability for vigilantes.
Read the article and learn about one of the big problems that is presently happening to the world (not just our nation).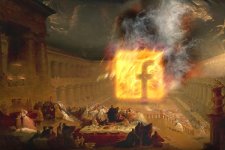 Last edited: