Party Leader: Bob Dick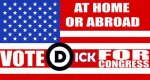 My name is Bob Dick, I am a Resident of The US, just like you.
I believe the main duty of every single person in the United States of America is to serve for their nation, whether it be in the the army or following the law and paying your taxes, it is essentially the same thing, because you are helping your nation, despite what group you are apart of.
I am not a tremendous business visionary running an expansive enterprise and I don't own several organizations (except my massive tech company), instead I am an American citizen who has worked for my wage (til i started my massive company lol) and am currently reinvesting what I can into my nation.
Unlike others I am not looking for a position to pick up power or a status, I am looking for a position to represent the people!
To achieve a decent society we need a perfect environment for all individuals.
Including a solid domain, youth welfare, and flexibility of belief without dread of System oppression or persecution.
Party Platform: A fair economy: build the economy from the middle out, stimulate economic activity, and maintain a strong social safety net.
Government oversight: civilian empowerment, anti-corruption, transparency, and public investigation into state agencies.
Social justice: equal treatment under the law, keep the government out of your personal life decisions.
Firearms control: the DP would aim for a system that empowers ordinary law-abiding citizens to own and purchase a firearm for protection, without excessive red tape from law enforcement.
Drug policy: The war on drugs has not been a success. Extremely prohibitive policies merely provide criminals a market to operate in. Future changes will occur.
The Spectrum
The Dick Party is a mix of center-right ideologies with a basis of Democracy and Conservative Socialism, we are mostly defectors from the Democratic party due to our beliefs. In order to show a simplified or easy to understanding of where the DP is winged, we will provide easy written definitions.
Economic Standing
There are many types of Socialism, and many route towards "cooperative ownership" and community based/regulated production. The Dick Party, again isn't a far-left or "typical" form of Socialism, as they do advocate for private ownership, and free enterprise but in productive means. The term Supply and Demand is a term that helps express our economic platform, and it refers to "the amount of a commodity, product, or service available and the desire of buyers for it, considered as factors regulating its price". Simplified meaning of what we, the Dick Pary support would be "Private ownership, and free enterprise but directed towards the needs of public consumers (i.e a demand for agricultural supply or raw materials)", however there are modern needs for humans in order to maintain a proper population would be helped by being funded, given funds or provided be by the Government (healthcare, sanctuaries or religious institutions)
Government support, unemployment insurance/welfare, yes/no. The DP wishes to provide financial support, for individuals who are victims of false employment termination, unable to legally obtain a job (medical disorder or permanent injury) or are unable to financially support their family and children. No man or woman should ever be destitute and can be eligible for assistance until they are able to find a source of income via family or work.
Social Net & Crime
The modern society we are apart of is influenced negatively by "crime culture" and urban trends. We do not and will not impose restrictions against any trending influences (music & arts, brands, ect) , we are concerned about the crimes that happen because of the smallest things that go on. Wealth, age, brand recognition and other influences that are associated with street crime and gangs are some of the most scariest, common crimes happening every day and it is affecting our youth, elderly and every other class of citizen we house in our great nation. We care deeply for victims of all crime and hopingly we want to attempt to sympathize with the broken or unstable individuals who are driven to commit crimes so we can provide them with the rehabilitation they need and we do not want them to become repeat offenders and wish to provide them with the rehabilitation they need. Youths are also a majority of the people who are raised in areas burdened with crime or are addicted to hoodlum life style, and we hope to establish the Dick Youth Program (WYP), a free program that will teach kids life skills and offer a comfortable a place to enjoy instead of hanging around the streets. The Dick Party, when elected wishes to provide programs for individuals who are willing to admit to their legal wrong doings a chance to be given alternate punishments and sepaunder consent of the Court System another chance to start over.
Values
The Dick Party holds a strong passion for democracy as it is what The United States was built upon, many morals and values that help influence people to stay on the right track, and do what is best. We believe in positive mentality, old morals that help people live a productive and happy life style.
Examples of positive quotes:
"Once you replace negative thoughts with positive ones, you'll start having positive results" - Willie Nelson
"Adopting the right attitude can convert a negative stress into a positive one" -Hans Selye
"Pessimism leads to weakness, optimism to power" - William James
"When you think positive, good things happen" - Matt Kemp
Tradition
We favor old American Tradition, where the provider for their family can work for their honest day's pay and come home to enjoy dinner with their family, and relax. The American Dream may be hard to accomplish, but if we as a whole can help improve society, lower crime rate and create new jobs, people will be able to resort to doing legal work and feel proud of it!
Dick Administration plan (2024)
General summary pledges that will be established once elected:
- Improve social society
- Community Events
- Publically Addressed Issues
- Improve Emergency Medical Services
- Fix taxes, based on class of wealth.
- Welfare for poverty stricken citizens.
- Raise the social standards of today.
- Improve foreign affairs
More in part 2.
​