So, we've all been reading about this latest Huston shooting shooting, and this is exactly why such weapons should not be in the streets:
Houston Shooter Fired 212 Rounds, Outgunned Police With America's Favorite Rifle
The Army veteran suspected of going on a shooting rampage Sunday in west Houston was able to fire off 212 shots before a SWAT sniper killed him, authorities said Tuesday.

Dionisio Garza III, 26, fatally shot his first victim, 56-year-old Eugene Linscomb, with a pistol, before picking up an AR-15 assault-style rifle and spraying bullets into responding police cruisers and a Houston Police Department helicopter, officials said at a press conference.

Regardless of how we characterize this outburst of gun violence, the incident again highlights problems in our mental health care system and easy access to the military-style firearms used in a number of recent deadly massacres.

A civilian later identified as John Wilson, 30, also reportedly attempted to stop the shooter with his own firearm, but, like police, appeared to be overpowered by Garza.

Alkuteifani also suggested his cousin may have chosen to carry out his attack in Texas because of its loose gun laws, which allow people to openly carry firearms like the AR-15 he used.
Here's what he was able to do to just a cop winshield: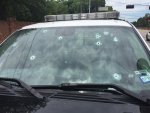 How many gangs around the country have these things, or Mac 9s etc?