China is joining the game. They have recently sent warships and troops.
China Sends 1000 Marines To Syrian Coast, Russia Sends More Warships (Video) | Middle East
Iran semms like is going to join the game as well.
Report: U.S. Intercepts Message From Iran?s Revolutionary Guard Chief Ordering Iraqi Shia Militants To Attack U.S. Targets If Syria Is Bombed? | Middle East
Hezbollah as well.
Hezbollah will attack Israel if strike aims to topple Assad | News , Lebanon News | THE DAILY STAR
Hezbollah mulling response to Syria strike | News , Lebanon News | THE DAILY STAR
Russia is sending more warships in Mediterranean.
UK is out.
France - i don't really see them as a factor if a battle start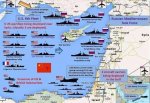 Let's assume the congress vote for a "YES" to attack Syria.
Do you believe a conflict is easy likely to start considering latest events?
What's the chance you believe that there might start a conflict??