Joined

Oct 9, 2018
Messages

333
Reaction score

36
Political Leaning

Moderate
Here is a survey on the percentage of people believe that certain non-conventional beliefs are at least somewhat scientific.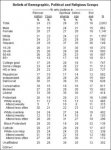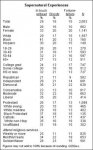 https://winteryknight.com/2009/12/1...-christian-republicans-are-the-most-rational/
Here's another one that deals with Evolution vs. Creationism.
In a press release (PDF), a number of further findings were noted: "Men [were] more inclined than women to believe in evolution (69% versus 48%); women [were] more prone to believe in creationism (28% versus 16%) ... Males (69%), younger adults (67%) and those with at least one university degree (71%) [were] more inclined to believe in evolution ... [and] Albertans (40%) and Conservative Party supporters (29%) [were] more likely to think humans were created by God."
https://ncse.com/news/2008/08/polling-creationism-canada-001375