This thread is the third of a three part series on specific ideas for solving our national debt problem. I am a grass roots activist who has come up with specific ideas to solve our fiscal problems and I need input and constructive criticism on the ideas to help me develop them. I am non-partisan, am very well educated on these issues and would not waste your time with anything that wasn't a politically and economically viable solution to these problems. It is designed to solve our national debt while growing our middle class. Ok, was afraid of this. Apparently the thread is too long. I will have to split into Part 1 and Part 2.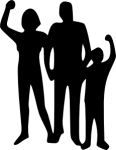 Strong Families Act
This is probably my favorite idea out of the bunch. I am going to make a deliberately provocative statement here that sounds like it will not pass the sniff test, and then I will show you exactly how I believe we can accomplish this. Ok, here goes.
We can stabilize our social programs and pay off our national debt by making our children millionaires for $5000 while growing our middle class. Sounds unbelievable, right? Here is how I propose we go about it.
I kind of look at this as a conservative alternative to Social Security, but one that works with Social Security to strengthen it instead of damaging this vital safety net. This idea also provides us with two methods for paying off our national debt of $16 trillion (or is it $17 trillion now?) with minimal austerity or social disruption. At the same time it should create a turbocharge effect on the world economy while doing it, spreading business opportunities and jobs through the world and turning a profit for our citizens. It should turn globalization into a force of good for our families and others around the world.
See, it is ordinarily going to take a long time for our nation to pay off its core debt based off what I am hearing from economists. To put it simply, our debt is $16 trillion and we as a nation take in $2.5 to $3 trillion a year in taxes. On top of our taxes we also run a deficit which is adding to our debt. At the top end of that $3 trillion a year in taxes scale our debt is 5-6 X the amount we tax every year to run our entire government on! Out of that yearly $2.5 to $3 trillion in taxes we pay for things like schools, military, social programs, highways, everything. Even though the debt is sold at low interest rates those payments to service the debt still have to be made from our yearly tax base, which means we cannot use that money for other things.
This situation is exacerbated by the fact that the demographic event called the Baby Boom is going to start increasing our deficits again as they start to retire in mass over the next 20yrs or so. That means more debt added to what we already have now. If interest rates rise on new bonds issued while we start borrowing to pay for that then the costs could create a real problem for us by eating an even larger portion of our budget to service it. An example of the pressure on our budget that is easy to understand is this pie chart from Wiki. It's from 2010 but not too much has changed. Just to get an idea of how badly it is distorting our budget priorities just compare what we spend on things like science and educating our children to what we spend on Medicare and Social Security. So what are our options?
Austerity during a downturn is a bad idea unless we want to look like Europe's 20%+ unemployment rates and social unrest with questionable results. We can monetize it but that leads to inflation eventually. It is too large to outgrow in any reasonable timeframe. We own a lot of property as a government but the potential problems with selling that are legion and not likely to come close to covering the debt without swamping the markets. We could drastically cut benefits to our elderly, but it just doesn't seem right to me. It is a lot of debt and not likely to be easily or painlessly resolved without some creative thinking.
As we all know, the American family is also facing different challenges than in the past. Bubble economics, the recession, high family and government debt, outsourced jobs, wages not keeping up with inflation, and the steady erosion of our middle class are just a few of these forces. If we lose our middle class we lose the spark that made this country great. We therefore need more financial stability in our lives and we need it to stay systemic for all of our countries citizens.
In order to help alleviate these problems what I propose is that we take a new approach to our retirement. We create a new system that not only stabilizes our social programs and doesn't interfere with them but simultaneously offers a way to pay off our national debt while minimizing damaging austerity. So how are we going to do that? We start by offering people a better deal.
Let's do a quick chronological rundown on how this would work.
1) Child's parents decide to enroll their child in the new retirement program. They apply for a tax deferred account and order a legal trust to use as a protective container for the account.
2) Parents/family/friends place $5000 in the account. The government will provide the opportunity to have the payments taken out of their checks before they are issued if they need to use a loan through a financial institution. This is to keep interest on the loans low and participation high because payments to the financial institutions are prioritized.
3) That account is split between several different licensed investment firms/brokers who follow the rules of the program to invest those funds before the child even starts to work.
4) Until the age of 26yrs old the child may still revert to the old Social Security system. If they choose to, all money accrued in their account is forfeit to the Social Security fund except the original $5000.
5) Child once an adult works and pays into Social Security like everyone else. Their funds will be used to first stabilize Social Security and then their payments into Social Security, at the discretion of the Social Security administrator as to when the fund is stabilized, switch to paying down the principal of the national debt.
6) Starting at the age of 65 but no later than 80yrs old their retirement funds may be withdrawn. At that time they pay taxes on all the money in the account except the original $5000. They may withdraw all at once or in increments. All funds must be disbursed and closed on the 80th year.
Pretty simple so far, right? Let's look at what it would mean a little further.
In order to understand this idea there is a very simple concept to comprehend.
Whenever you invest there are generally three parts to it that will apply here. The first is principle, how much are you investing. The second is time, how long are you investing for. The third is your return, how much percentage yearly profit do you average over the long term. The neat thing is that these three figures are sort of interchangeable.
Think of it like this.
Principle x Time x Return= Goal
So by changing any of those figures you can overcome weakness in one with strength in another. As an example, if I had a goal of $1 million dollars and I invest a high principal like $900k for five years or so at 6% return I should hit that goal. If I have five years to invest and a couple thousand dollars but was getting something ridiculous like a 2000% or 5000% percent yearly return on my investment I could also do it. However the important part, the point relevant to this discussion, is that time is also one of those values that are interchangeable. So, who in our families have a lot of time? Children do, and we have almost four million every year.
Here is a good example. The Excel file is an .xls so older and newer versions of MS Excel or most other spreadsheet programs should be able to use it. This is a simple straight line extrapolation without taxes added in. As you can see the result is impressive. In order to read it, the bottom tabs represent your average yearly (6-9%) return and the row number -1 as the year for how many years of the investment. This is a very simple Excel calculation so I am leaving it unlocked for people to look at the formulas used in making it. Just to put this into perspective, the S&P 500 average return for an 80yr period (1932-2012 source
Moneychimp: learn Stock Investing, Index Funds, Valuation Models, and more.
) already adjusted for inflation is 7.11% and unadjusted was just under 11%. [sorry cannot figure out how to upload the spreadsheet. Any assistance would be appreciated]
If we calculate the worth of the account without including inflation based on those historical returns the child would have over $20 million in the account. This is not adjusted for inflation so it will not be the same amount in today's dollars. However it is the end taxable amount for the deferred tax.
If we do adjust for inflation the child would have just under $1.3 million in today's money at the end of 80yrs to retire on.