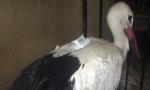 If it looks like a stork, walks like a stork … it's probably a foreign spy. This, at least, was the conclusion of an Egyptian fisherman who took patriotic exception to a migratory bird near his home in Qena, southern

Egypt

.

Spotting an unlikely metallic device attached to the stork and suspecting it contained a camera – or worse – the fisherman concluded the stork was a spy acting on behalf of foreign powers.

Dutifully apprehending the bird with a citizen's arrest, the man brought the stork – initially feared to be a swan – to a nearby police station. Local veterinary experts were summoned. An inspection took place. To the relief of all, the stork turned out to be bearing nothing but a wildlifetracker, apparently fixed to its feathers by French scientists researching birds' migratory paths. The device was no longer working.

The stork is not the first fowl to have fallen foul of Egyptian authorities. In January, state media reported that a stricken carrier pigeon had been sent to Egypt's criminal investigation department after being found with a

suspicious microfilm

.
Eyes on storks? Egyptian fisherman thought bird was foreign spy | World news | theguardian.com
What the hell is wrong with them over there? First shark mossad agents, then spying pigeons now spying strok behind bars...