538's Expert Panel Aggregate at current has Trump ending the Primaries with
1175
, though this will change as states and state parties vote/caucus/decide in the upcoming weeks/months. Betting markets are putting the chances of a Contested Convention at
above 60%
.
So here are 538's Expert Aggregates: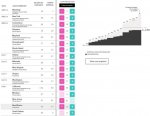 Note, however, that some of them are almost certainly wrong. Delaware, for example, is winner-take-all, yet Trump only gets 15/16. This is because the system weighted probability.
Readjusting to fit that reality gives Trump an additional Delegate in Delaware and Pennsylvania, but takes one from Nebraska.
Going forward, boondoggles such as
completely bungling attempts to get delegates to stand for Trump in Washington
will be (I suspect) likely to drive Trump's numbers lower off of the projections, though a string of wins in New York and a shut-out of state victories (though not of delegates) on April 26th could reinvigorate his following.
Going forward, Trump needs to win states with
more than 40% of the vote
, and gain 66% of the remaining delegates in order to avoid a contested convention. Thus far he has won about 37% of the vote and about
46%
of the delegates.
Last edited: