Joined

Sep 8, 2005
Messages

35
Reaction score

0
Location
Gender

Male
Political Leaning

Independent
Friday's Durable Orders showed a huge monthly decline, marking a -10.2% change from the previous month. Not only did Durable Orders decline sharply, the decline was MUCH worse than predicted by the "experts." As of Monday, February 20th, the Market anticipated only a -0.3% change in Durable Orders. By Thursday, February 23rd, the anticipated decline had been revised further to -2.0%. The actual -10.2% change was markedly worse than expected. Below is a graphic representation of this decline.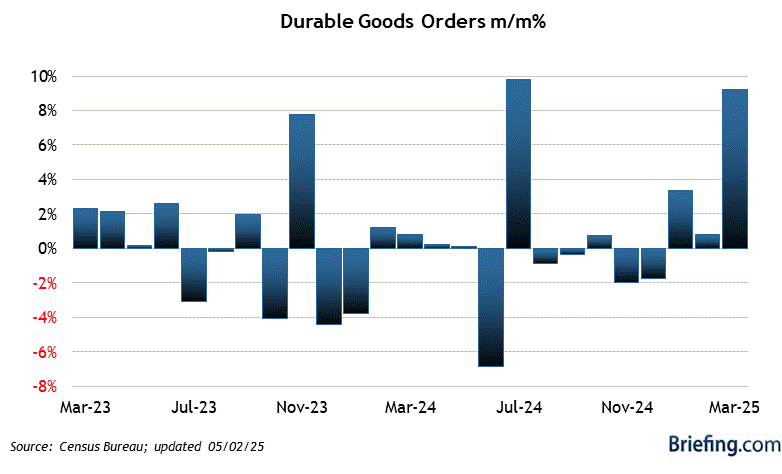 Below is a copy from Briefing.com showing the actual numbers.
This information can also be found at Briefing.com's
Durable Orders
Non-defense durable orders declined 8.1%. Capital goods orders fell even more, with a 1 month change of -23.1%. (The previous day's prediction was for a change of only 0.0%. Off just a little.) Most of this change was in Nondefense Capital goods, which experienced a -20.0% change from the previous month. (The previous day's anticipated change was only -0.2%. Again, off by a just a tad.) Machinery orders declined 2.5%.
The capital goods order decline of 23% suggests a similar decline in true capital investment. It indicates a huge decline in demand for capital goods, as well as a decline in demand for production those capital goods facilitate.
These numbers are NOT indicative of an economy that is "strong, and getting stronger." They're indicative of an economy that is "weak, and getting weaker." They're indicative of an economy that's sinking. And sinking rapidly.
unlawflcombatnt
EconomicPopulistCommentary
Economic Patriot Forum
The economy needs balance between the "means of production" & "means of consumption."