According to the most recent state-by-state surveys, Democrats have hit the 50-vote mark through July 31st. I suspect that when polling comes on for Oregon and California that this number will go to 52.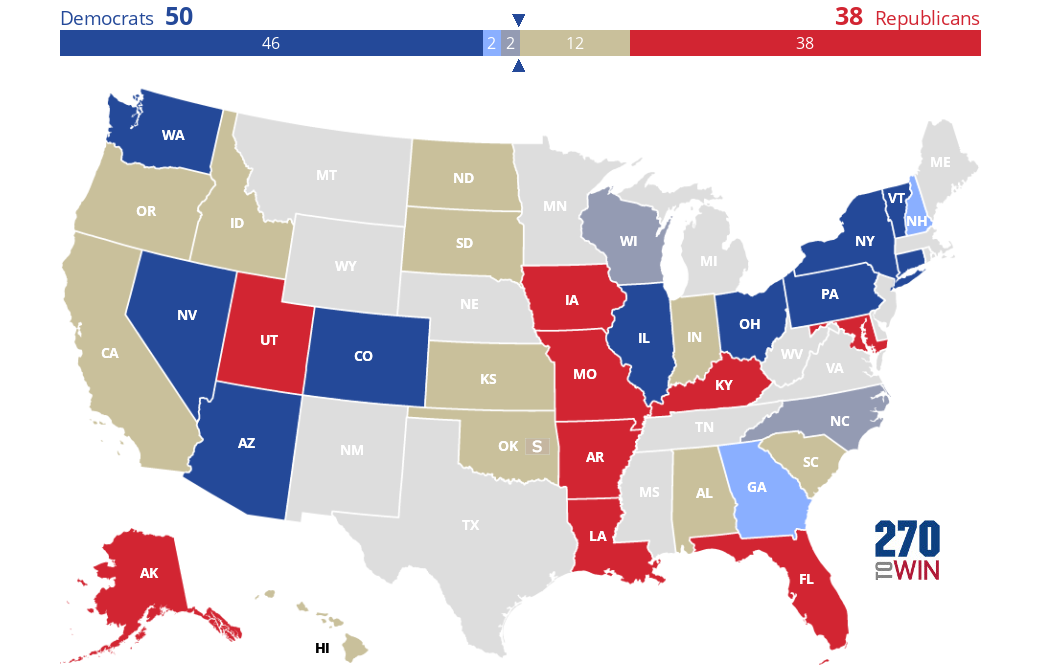 Who will control the Senate? Review and predict the outcome of the 35 Senate races in the 2022 elections.
www.270towin.com
However, there are a few precautions, so don't celebrate just yet if you are a Democrat:
#1: The Democratic lead in Wisconsin, Georgia, and North Carolina is tenuous. Right now, Rep. Ted Budd (R-NC), who is running for Senate, is not running very many ads in the state. I suspect that North Carolina might flip back to Republican, making the Democrats' number go to 51.
#2: I suspect that Wisconsin will get a little bluer over time due to Sen. Ron Johnson's involvement in the Jan. 6th coup/takeover/conspiracy/government disruption/Trump Rebellion. It is too soon to tell if this effect will dissipate as we get closer. Sometimes, there is a "rubber band effect" near the end of the election where it swings back in the other direction.
#3: Raphael Warnock's (D-GA) numbers are razor-thin. At one point, he was over +5, a solid lead, but that is now eroding. I suspect that we might not know on election day how close this is.
#4: New Hampshire is also not a strong as one would expect for the Democrats. I suspect this will get to a solid blue, but it is too soon to tell.
#5: Finally, if we look at the overall analysis, as of right now, the maximum 52 Senators for the Democrats is very tenuous. The Republicans' seats are solid right now, while there are four seats that could be flipped away from the Democrats. As such, if the election was held right now, we can assume from the polling numbers that Democrats can win between 48 and 52 seats. If all four seats are taken back, the Republicans will take the Senate.
If I was devising a strategy for the Republicans in the Senate, the majority of their concentrated efforts should be split between NH, NC, GA, and WI. They can still take the Senate, but they would have to flip four seats. It looks daunting, but they said Trump couldn't do a similar run in 2020, and he did.