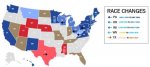 As an update to my last posting:
I have moved the following,
PENNSYLVANIA - Casey - Likely Dem to Safe Dem
OHIO - Brown - Lean Dem to Likely Dem
WISCONSIN - Baldwin - Lean Dem to Likely Dem
WEST VIRGINIA - Manchin - Tossup to Leans Dem
TEXAS - Cruz - Lean Rep to Likely Rep
The main reason for shifts in these races are due to an abundance of new polling. PA's race shows incumbent Bob Casey easily defeating Lou Barletta by double digit margins. The same can be said about Sherrod Brown in Ohio and Tammy Baldwin in Wisconsin. WV's Joe Manchin has been performing better in polls than I would have thought (considering the state was Trump's largest margin of victory in the country in 2016), so that race moves to Leans Dem.
Texas Democrats were encouraged after their candidate Beto O'Rourke saw major fundraising advantages and appeared to close in on Ted Cruz. However, that time has passed and Mr. Cruz has consistently led by about 9 percentage points. I am moving this to Likely Rep.
------------Next update to come soon.------------- Watch for the following races...
ARIZONA - Flake (Open) - I am likely to move this race in favor of the Democrats soon. I just would like to see another poll or two to prove my point, but I believe Kyrsten Sinema is possibly looking at a huge lead... possible move to Lean Dem in coming weeks.
MINNESOTA (Special) - Smith - No major candidates have surfaced to take on appointed Democratic Sen. Tina Smith. With the help of the regularly scheduled election of her colleague Amy Klobuchar, I think she should have an easy victory... possible move to Safe Dem in coming weeks.
SQEAKERS-(adjusted final percents)- FL (Nelson +1.2), MO (McCaskill +0.7), TN (Tie/Bredesen +0.2), ND (Heitkamp +0.8), IN (Braun +0.9)