Joined

Dec 11, 2014
Messages

59
Reaction score

9
Gender

Undisclosed
Political Leaning

Undisclosed
do you know about secret prisons and what do you think about it?
what do you think about harder law and harder punishments and making industry from imprisoning people?
One of 5 secret prisons is located in Chicago, so-called Homan Square, they investigate criminals with military methods used in Guantanamo. While US military and intelligence interrogation impacted people overseas, Homan Square – said to house military-style vehicles and even a cage – focuses on American citizens, most often poor, black and brown. The Chicago police department operates an off-the-books interrogation compound, rendering Americans unable to be found by family or attorneys while locked inside what lawyers say is the domestic equivalent of a CIA black site. The facility, a nondescript warehouse on Chicago's west side known as Homan Square, has long been the scene of secretive work by special police units.
Alleged police practices at Homan Square, according to those familiar with the facility who spoke out to the Guardian after its investigation into Chicago police abuse, include:
Keeping arrestees out of official booking databases.
Beating by police, resulting in head wounds.
Shackling for prolonged periods.
Denying attorneys access to the "secure" facility.
Holding people without legal counsel for between 12 and 24 hours, including people as young as 15.
At least one man was found unresponsive in a Homan Square "interview room" and later pronounced dead.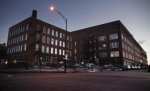 Beside it,
prisoners in the U.S. have called for a series of strikes against forced labor, demanding reforms of parole systems and prison policies, as well as more humane living conditions, a reduced use of solitary confinement, and better health care. Inmates at up to five Texas prisons pledged to refuse to leave their cells on April 5th
. "Texas's prisoners are the slaves of today, and that slavery affects our society economically, morally and politically," reads the five-page letter announcing the strike. "Beginning on April 4, 2016, all inmates around Texas will stop all labor in order to get the attention from politicians and Texas's community alike."
The 13th Amendment to the United States Constitution bans "involuntary servitude" in addition to slavery, "except as a punishment for crime whereof the party shall have been duly convicted," thus establishing the legal basis for what is today
a $2 billion a year industry
, according to the Prison Policy Initiative, a nonprofit research institute.
Most able-bodied prisoners at federal facilities are required to work, and at least 37 states permit contracting prisoners out to private companies, though those contracts account for only a small percentage of prison labor. "Ironically, those are the only prison labor programs where prisoners make more than a few cents an hour," Judith Greene, a criminal justice policy analyst, told The Intercept.
Instead, a majority of prisoners work for the prisons themselves, making well below the minimum wage in some states, and as little as 17 cents per hour in privately run facilities. In Texas and a few other states, mostly in the South, prisoners are not paid at all, said Erica Gammill, director of the Prison Justice League, an organization that works with inmates in 109 Texas prisons. "They get paid nothing, zero; it's essentially forced labor".
Although they comprise nearly half the incarcerated population nationwide — about 870,000 as of 2014 — prison workers are not counted in official labor statistics; they get no disability compensation in case of injury, no social security benefits, and no overtime.
"They keep a high conviction rate at any cost
," reads the letter circulated by prisoners ahead of today's strike, "
all for the well-being of the multimillion-dollar Prison Industrial Complex
."
On April 1,
a group of prisoners from Ohio, Alabama, Virginia, and Mississippi called for a nationally coordinated prisoner work stoppage against prison slavery to take place on September 9, the 45th anniversary of the Attica prison riot. "We will not only demand the end to prison slavery, we will end it ourselves by ceasing to be slaves," that announcement reads. "They cannot run these facilities without us."
Last year in Texas, nearly 3,000 detainees demanding better conditions seized and partially destroyed an immigration detention center.
In March, protests erupted at Holman Correctional Facility, a maximum security state prison in Alabama, where two riots broke out over four days. At least 100 prisoners gained control of part of the prison and stabbed a guard and the warden.
"We have to strain the economics of the criminal justice system, because if we don't, we can't force them to downsize," an activist serving a life sentence at Holman told The Intercept. "Slavery has always been a legal institution," he added. "And it never ended. It still exists today through the criminal justice system."