Supporting Member
DP Veteran
Monthly Donator
Joined

Dec 3, 2017
Messages

23,164
Reaction score

13,686
Gender

Male
Political Leaning

Progressive
coronavirus: Scientists find a pre-existing drug, used to treat bipolar disorder, effective against coronavirus - The Economic Times
WASHINGTON: Using state-of-the-art computer simulations, scientists have identified a pre-existing drug, used to treat multiple diseases, including bipolar disorders and hearing loss, that could prevent the novel coronavirus from replicating in host cells, an advance that may lead to a therapeutic solution against COVID-19.
The study, published in the journal
Science Advances
, assessed the molecule main protease,
Mpro
, of the novel coronavirus which is a key enzyme that plays a central rule in virus development after infection.
Read more at:
coronavirus: Scientists find a pre-existing drug, used to treat bipolar disorder, effective against coronavirus - The Economic Times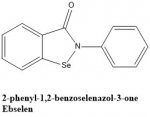 Ebselen
is currently being developed for treatment of bipolar disorder & hearing loss (tinnitus). I lab studies it has been shown to be very effective at inhibiting the Main protease (
Mpro
,
nsp5
) responsible for the formation of the infective components of COVID-19.
Last edited: