Dakota Meyer

, who received the Medal of Honor in 2011, said Tuesday Republican presidential nominee Donald Trump should apologize to the Khan family for comments he made about the Muslim parents of a slain US soldier.

"If @realDonaldTrump wants to be the Commander in Chief, he needs to act like one. And that cant start until he apologizes to the Khans," Meyer tweeted...
Trump fans reacted about how we've come to expect them to react: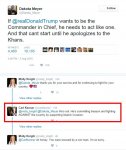 By accusing the MoH winner of Treason.