Banned
Suspended
DP Veteran
Joined

Aug 26, 2007
Messages

50,241
Reaction score

19,242
Location
Gender

Female
Political Leaning

Conservative
https://jesspryles.com/recipe/how-to-make-your-steak-even-tastier-use-the-dry-brining-method/
[h=2]The Deep Seasoning Method for Steak:[/h]

Start with a steak that's at least one inch thick. Generously season with kosher salt on both sides. Lay it on a rack above a foil-lined tray, uncovered, and put into your fridge.

That's it. That's the whole, entire procedure. Well, not entirely, because now you have to wait and leave it like this for 1-3 days. Being the impatient person I am, I tried the method out with a few different increments of time but discovered that the three day yields the best result (although you will still get benefits from leaving it for a day).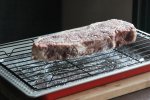 I've seen this, in various forms, do it for an hour, do it for 24-72 hours in the fridge... it makes cheap steaks the best steaks yadda yadda yadda.
So I happened to have 2 NY Strips steaks in a pack, not the best quality meat but whatever, I did one the usual way. Set it out an hour, a little salt and pepper then cooked it on the stove at high heat with a little grapeseed oil and then tossed in the oven to finish and cut into it 7 mins after it was done. I'll heat up my toaster oven on warm, put the steak on a stoneware plate and put it in there for the wait, with the heat off.
It wasn't bad, it wasn't great but edible.
Today I tried the above cooking method. This isn't the first time I tried to get this method right.
I had one bite, that I couldn't swallow and I threw the steak away.
Why? IT WAS SALT WITH A HINT OF BEEF. WTF
I do not get this method. I rinsed it off, dried it off.. ****ing hell. Do people really like super salty steak? Cause I can't stand that, it was like... trying to eat a salt lick that someone had infused with beef broth or something. UHG
Seriously, that was foul.
Does anyone here cook their steaks this way? Am I doing something wrong or is that just "the way"?