Ukraine is often compared to Texas in size, although Texas is slightly larger, and Ukraine has 30% more population. Ukraine is actually the second largest country in Europe (next to Russia). But the comparison is useful, also, in trying to understand what Putin's invasion of Ukraine is like, militarily.
Houston is roughly comparable in size to Kyiv, at 2.3 million residents to Kyiv's 2.9. The ten largest cities in Texas:
In comparison, Ukraine's largest cities are
| | |
| --- | --- |
| Kyiv | 2,797,553 |
| Kharkiv | 1,430,885 |
| Dnipro | 1,032,822 |
| Donetsk | 1,024,700 |
| Odessa | 1,001,558 |
| Zaporizhia | 796,217 |
| Lviv | 717,803 |
| Kryvyi Rih | 652,380 |
| Mykolayiv | 510,840 |
| Mariupol | 481,626 |
Texas and Ukraine also have similar coastlines, although Ukraine coastal cities are far larger. Odessa is more comparable to New Orleans than Galveston and Texas City. Corpus Christi is somewhat smaller than Sevastopol, but similarly situated.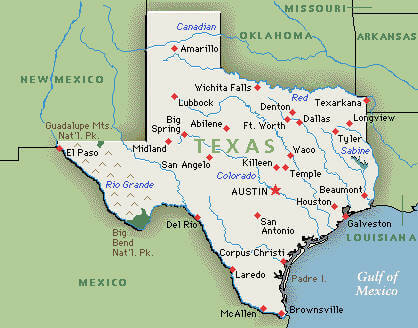 Carrying the comparison forward: Russia has control of the separatist El Paso region along the border and has previously invaded and annexed Corpus Christi (Sevastapol). From Corpus Christi, it is pushing inland to try to capture New Orleans, attacking Galveston/Texas City along the way. From sympathetic Oklahoma, it is pushing down to try to capture Houston, with a 40-mile column of tanks, artillery and personnel carriers 15 miles from there, but has run low on fuel.
Early in the invasion, a Russian Warship announced to the rangers on South Padre Island, "This is a Russian warship. I propose you lay down arms and surrender to avoid bloodshed and unnecessary victims. Otherwise, you'll be bombed." To which the Texans replied, "Russian warship, go **** yourself." Nonetheless, the personnel on the island have been captured, and the island is under Russian control.
Russia has been bombarding San Antonio, blowing up the Alamo with cruise missiles from the Gulf of Mexico, and artillery, as well as Dallas/Fort Worth, and Austin. It has captured a nuclear power plant (South Texas Project Electric Generating Station in Bay City) and is holding the personnel there to operate it and as hostages. If it melts down, it will immediately be a thread to San Antonio as well as Austin and Houston. None of Texas' major cities have yet fallen, although Midland, Beuamont and Laredo are now under Russian control. Prior to the arrival of Russian invaders, Dallas blew up several bridges over the Trinity River. The Dallas Zoo was shelled and subsequently taken over by Russian troops as a staging ground.
Last edited: