Putin = War Criminal
DP Veteran
Joined

Apr 18, 2013
Messages

82,862
Reaction score

67,811
Location
Gender

Male
Political Leaning

Independent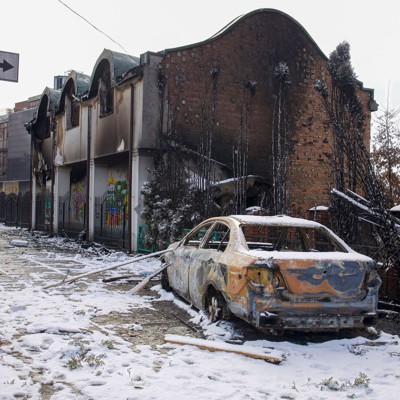 "Everybody is surprised by the lack of combined arms capability in the Russian army," said one general-turned-analyst.
www.defenseone.com
3.8.22

After poor planning and combined-arms ineptitude sank Russia's plan for quick victory in Ukraine, Moscow shifted to Plan B: bombarding Ukrainian cities.

"I think the Russian army reformed into this thing we call the New Look Army They task-organized themselves into smaller battalion tactical groups and, fundamentally, that that is not a bad construct," Lt. Gen. Scott Berrier, who leads the Defense Intelligence Agency, told the House Intelligence Committee on Tuesday. "I think they had a bad plan. And I think their logistics support is not what it needs to be." The failure of that plan led the Russians to a new one, said Ben Hodges:

"The intentional murder of Ukrainian civilians, designed to create a massive refugee problem and to create pressure on the Ukrainian government, NATO, and the rest of Europe, to do anything, even capitulate, to stop the killing."

Hodges, who formerly commanded U.S. Army, Europe and is now at the Center for European Policy Analysis, added, "Most of the damage being done is by these long-range fires, rockets, and artillery, not by Russian Air Force aircraft." On Tuesday, a senior defense official said the Russians had fired some 670 rockets.

The ugliness of the war says much about Russia's current capabilities, or lack thereof.

John Ferrari, a retired two-star Army general who is a nonresident senior fellow at the American Enterprise Institute, said,

"Everybody is surprised by the lack of combined arms capability in the Russian army…Their lack of ability to even maneuver at the theater level is surprising."

The heaviest toll, however, is clearly being paid by Ukrainian civilians. Multiple reports indicate that Russia is using cluster munitions, which more than 100 nations have foresworn by treaty. Russian rockets have also hit hospitals and schools. The damage has been particularly heavy in the eastern city of Kharkiv. Berrier said Russia seems unconcerned that firing on civilians might constitute a war crime, though he declined to say definitively whether war crimes had yet occurred. "Certainly the bombing of schools and facilities that are not associated with a great Ukrainian military would indicate to me that they are stepping up right to the line, if he hasn't done so already," he said.
The Russian military Plan B: Murder everyone.
Kharkiv (1,500,000) is being leveled, block by block by Russian artillery and missiles. Russia is also using cluster munitions which are banned.
Bellingcat's founder says Russia is using cluster bombs every day in its war on Ukraine, killing and injuring countless civilians.
www.newsy.com