A rocket launcher was one of over a thousand weapons that have been collected as part of Baltimore's gun buyback program.
Three buyback events have been held thus far, with the first two yielding 1,089 firearms. The weapons include 509 handguns, 273 rifles, 245 shotguns and a
rocket launcher, for which the city paid $500
, according to The Baltimore Sun.
https://thehill.com/blogs/blog-brie...her-returned-as-part-of-baltimore-gun-buyback
The City purchased an AT 4 tube....for $500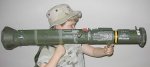 You can buy them online for $249
https://www.buymilsurp.com/m136-at4-anti-armor-weapon-inert-display-p-42716.html
I know how I am going to earn money for my new carpet.
Last edited: