Conservatarian
DP Veteran
Joined

Sep 28, 2011
Messages

12,180
Reaction score

7,643
Location
Gender

Male
Political Leaning

Conservative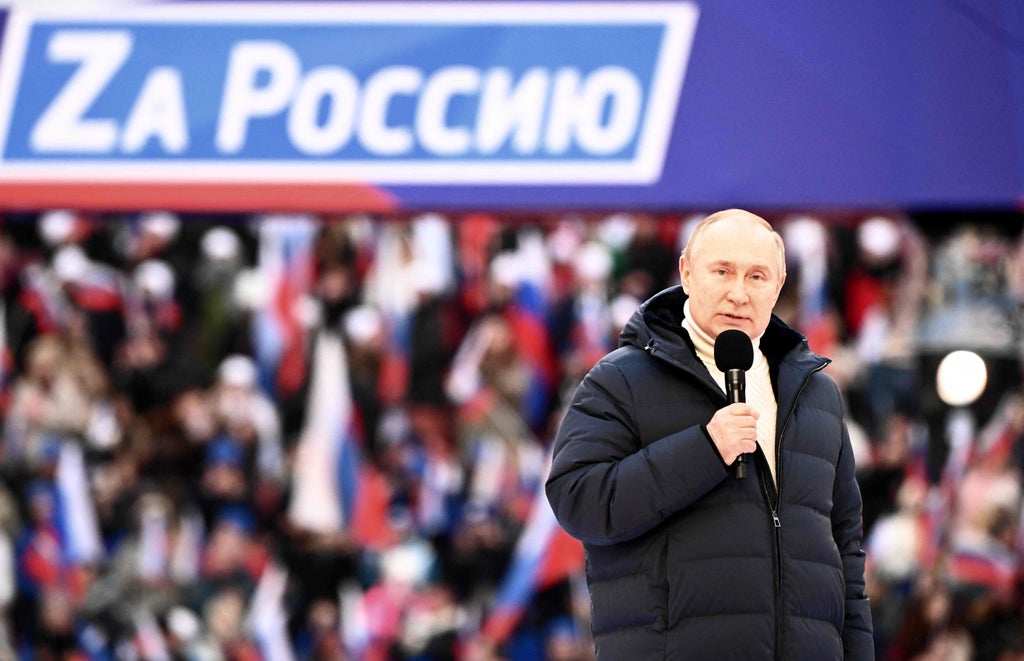 Thousands of Russians crammed into Moscow's Luzhniki World Cup stadium

news.yahoo.com
The war has entered a new and perhaps more dangerous phase, the outcome of which remains uncertain. I noted, in another thread on "Kremlinology - new insights", that Putin has increased the rhetoric and fear mongering over biological and chemical weapons.
"In Wednesday speech, Putin repeatedly alleged that the West was using Ukraine to make and stockpile biological and chemical weapons — and even, potentially, nuclear weapons — for use against Russia. The increased emphasis on this in recent days usually signals that Russia itself intends to take these measures, shifting blame for such a step on the enemy instead of Russia. This may be his plan."
Putin' spoke today in a "massive" rally that filled the Luzhniki soccer stadium, it being the anniversary of the annexation of Crimea. On stage, he promised to tens of thousands waving Russian flags and chanting "Russia, Russia, Russia" that the Kremlin's aims would be achieved....on a stage decked with slogans like "For a world without Nazism" and "For our President.". Many slogans also used the Z symbol as a motif.
Moscow police claimed more than 200,000 people were in and around the Luzhniki stadium.
Putin continued to call it a "special military operation" and said "Shoulder to shoulder, they help each other, support each other, and when needed they shield each other from bullets with their bodies like brothers. Such unity we have not had for a long time," Putin said.
Putin says the operation in Ukraine was necessary because the United States was using Ukraine to threaten Russia, and Russia had to defend against the "genocide" of Russian-speaking people by Ukraine.
Aside from the national anthem the band Lyube sang patriotic songs about war, sacrifice, and to honor those heroes fighting for Russia. And, pan-slavist poet Fyrodor Tyutchev recited verses that they would be considered slaves to the Enlightenment.
By all accounts, the crowd went wild and swallowed the bunk whole.
What are we to make of this madness?
First, it is distilled Nazi ideology. The core of Slavic Civilization and its Russian Slavic race will be wiped out by genocide by Ukraine or slavery to the enlightenment.
Second, those who oppose their war support Nazi'ism.
Finally, it our country so right or wrong, we must win to survive. And, I think, that may be a pretext for chemical warfare.
What do you think?