Joined

Dec 1, 2011
Messages

32,793
Reaction score

13,786
Location
Gender

Male
Political Leaning

Independent
Ingredients:

2-6lb beef roast
potatoes
carrots
onions
celery
garlic
Prosciutto
2 bay leaves
brown gravy (optional)
First, marinate the standard pot roast (rump, bottom round or chuck) for several days, refrigerated in a sealed plastic bag. You can use your own beef marinade or store bought. The marinade is not essential but it helps bring some improved flavor and tenderness to the meat. The base for most of my beef marinades are soy, worchestershire, tenderizers and spices (garlic & onion powder, black pepper).
Ready to cook by smearing a light layer of minced/crushed garlic on top, then wrap/top with Prosciutto. Fill pan with water 1/3 way up the roast, cover with foil and cook at 325F for 1.5 hrs.
Take out, reduce some of the liquid if there's too much, then add veggies and bay leaves, recover and finish cooking at 300F for another 2.5 hrs. You can add the veggies in the beginning but they will be mushier and less tasty. The cooking time and temp may vary on roast size, type and doneness. I like medium to well done on this 5lb chuck.
When finished remove the Prosciutto and scrape off the garlic layer with a spoon and dispose. Leftover processed garlic can be rough to digest and overpower the flavor profile. Also take out bay leaves, drain some of the juice, leaving a layer behind to serve with brown gravy. Some people add a cup of dry red wine and less water in the beginning, letting it thicken with the meat/veggie juices, making an aus jus - mirepoix. Either way is good.
Bon appetit.
Marinated Roast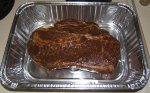 Garlic Coating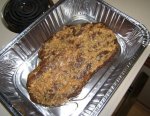 Prosciutto Wrap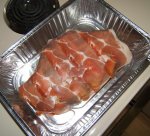 Added Veggies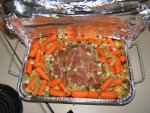 Cooked Pot Roast