Joined

Feb 27, 2013
Messages

3,114
Reaction score

1,004
Gender

Male
Political Leaning

Libertarian - Right
President stompy foot is at it again
Las Vegas, NV (KTNV) -- The government shutdown is being felt close to home for some locals. They say they're being forced out of private homes on Lake Mead because they sit on federal land.

Joyce Spencer is 77-years-old and her husband Ralph is 80. They've been spending most of their time in the family ice cream store since going home isn't an option.The
Spencers never expected to be forced out of their Lake Mead home, which they've owned since the 70s, but on Thursday, a park ranger said they had 24 hours to get out.
Lake Mead property owners forced out until shutdown ends - www.ktnv.com
and they were not the only ones
As the Las Vegas Review-Journal reports, some 60 families were given notice:
He's one of an estimated 60 families with vacation homes along the lake who were given notice by the National Park Service earlier this week to gather their stuff and leave, according to Christie Vanover, a spokeswoman for the Lake Mead Recreational Area.
doesn't the White House also sit on federal land? so when is the Obamas going to be told they have 24 hours to leave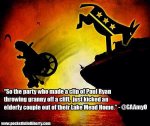 And how are you on the left still are able to keep defending this putrid, disgusting, vile, vindictive, petty, piece of crap we have in the WH do you not have one once of self respect left
Last edited: