Joined

Jan 28, 2006
Messages

51,123
Reaction score

15,259
Location
Gender

Male
Political Leaning

Independent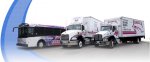 Ok so I have a 'friend' who works in construction and his foreman regularly told the 2 guys on the crew who do not have CDLs to drive CDL trucks on public roads. My friend is in the service and has plenty of experience driving large trucks in various conditions, and the service quite frequently looks the other way when a solder doesn't have the exact right paperwork to operate something, so this felt very normal for him to do.
On that same day, my friend heard that his truck had to go back to the yard. Feeling that he had a sort of implied consent to do this, my friend may have driven his apportioned vehicle with air-brakes 30-40 miles back to the yard, even though, again, he doesn't have a CDL.
The next day the Super caught wind of this and chewed my friend's ass for operating without a CDL. Turns out 'willful disregard' carries a jail sentence and stiff fines even if everything else about the truck and the load are fine. The Super could have fired my friend on the spot, maybe even called the cops and reported him, but the Super likes to take care of business in-house.
Backing up a step, the Super chews my friend's ass for operating without a CDL, and not even an hour later the Super is bragging to the crew about how he's never had a motorcycle license in his life while he rides a Harley to work.
To top it off, later that day, after said but-chewing, the original foreman tells my friend to once again operate that same truck on public roads without a CDL. My friend climbs in the truck and is ready to go when the Super pulls up to the sight, sees my friend in the truck about to merge onto the highway, and the Super's head pops right off his shoulders. :lol: I don't know how my friend still has a job but he sure is thankful.
What do ya think about that?
Last edited: