I really only have one 'pet peeve', but it shows up everywhere. It's people who don't ****ing think. Can you imagine my torment? It drives me bat **** crazy sometimes. And yes, as I get older, it's getting worse. I'm probably going to be a perfect prick of an old man if I make it that far. It's making me a bitter if not better person, thought I'd take you with me on my descent…
Are You Re-tardy? Then I bitch about the chronically late. You Litter Bastards. Then I bitch about the weird garbage I find in the trails of butt **** nowhere. Or, have you noticed how the complimentary wave when you let someone in traffic is disappearing? When did that happen? How many of you make it a game to NOT let someone in? Have you ever held the door open for someone to go ahead of you, and they walk through like you're a doorstop? Observation tells me it's getting worse, not better...
All these separate pet peeves boil down to the same thing. You could argue that people who lack the ability to accomplish small feats of nothing, simply don't give a ****. Who died from a BK cup in a pristine alpine lake, or not getting acknowledged for holding a door open that no one asked them to? Get over yourself, 'Don't Sweat the Small Stuff', what's it matter in the grand scheme? But you already know where I'm going… I swear I'm more fun in real life…
Maybe it's just my interpretation of the phrase 'pet peeve', but it's always seemed to immediately write off the little grievance as unchangeable, forever to haunt us, so just make light. Probably a good idea depending on each situation, but these unimportant, frivolous, rehashed, childish, unchangeable, cliché, now meaningless topics are very real, and very adult. The ones trivializing it are the children. That's how backward we are…
I would agree they don't give a ****, because they aren't thinking. They've chosen ignorance as strength, if I may hack Orwell. This tiny little meaningless **** is THE ****. Get it? Remember? Do you see how arguing over bias in the media is just surface **** yet? Whoever wins is still getting their ass handed to them, what does it matter in the grand scheme…? Don't kid yourself that it's not rigged that way either. You feel like you're talking important stuff while the kids talk at the small table…
It's not childish to want world peace, then act accordingly. It is very adult to create the world where principles, dignity, ethics, morals, etc are cherished values, not **** on because they don't fit in the 'real world'. We started lying to ourselves a long time ago, don't even notice anymore. It's very stupid and childish, and unthinking to behave the way we do now, not the other way around. Just so we're straight…
But you can't say 'I know, I know' while you wave it off – that's what CHILDREN do. Responsibility sucks, doesn't it? If you were paying attention you'd realize that if you took THIS responsibility seriously, many of the ones you feel are in the way, stopping you from making a commitment, making you cloudy and rushed, would dissolve with the effects of the crack you're on.
I'm sick of excuses, willful ignorance, feeling like the 'mental' one who has to stay quiet in his corner because most of you have gone ****ing nuts thinking you've outgrown childish matters while you bitch about what a mess the world is like you can't do anything about it. I can't shake you hard enough…
Imagine if people had human standards we expected each other to live up to or they'd be ridiculed, denounced, black-listed, considered kooks with their own crazy forum that we put up fake threads in to poke fun at them with… Sorta how it works now, but reversed for people with dignity and pride in themselves and their planet, and those they share it with. I wonder what made it un-cool to give a ****? I would imagine if we gave a ****, pushed on it, informed ourselves… a lot of people would be out of power, scared to death of us… We might be doing our jobs as citizens of a 'free country'…
We're all guilty for each other's pet peeves because we choose not to think. Small changes is how it starts. These little things snowball quickly too, and into other more meaningful things, almost addictively, like a game of not letting them in traffic... But they decay a society much faster, if we let even these little things slide too… Then there's not a hope in hell for us… I'm watching you give up, dropping like flies, and it annoys me to no end… You're better than that, even if you don't remember…
So… You've heard of road rage? Let someone in – be the bigger person, the adult. Wave thanks when due, like you teach your kids. Give that unspoken courtesy by just being on time. It's not hard to say 'thank-you', or even just tilt your head to acknowledge an act of random kindness like having a door held open for you by a stranger. Just pay attention to things that take nothing to do, but ease tensions, and create harmony in your environment… Nobody else in line cares about your cell phone conversation, the middle of an aisle is no place to park your buggy, the small stuff that you naturally sweat when it happens to you on the wrong day…
On a slightly larger scale; You think your city is filthy, the government is bloated? Try picking up a piece of garbage one day and carrying it till you see a garbage can. Organize your street to get the road managed, swept, plowed – take care of your own business, get to know your neighbors again, even your homeless, whatever's comfortable in your area, not one size fits all, handed down by people getting rich off the rules they made that you bitch about from a distance.
YOU are the bosses in a free country, remember? Don't just ****ing lip service it, it's not going to wash anymore. Be adults. DO something about it, or be quiet and eat the crap you've asked and paid plenty for…
Peace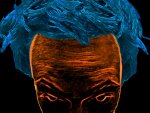 ​