From here: All the Nominee's Enablers

Excerpt:
A couple of weeks ago Paul Ryan, the speaker of the House, sort of laid out both a health care plan and a tax plan. I say sort of, because there weren't enough details in either case to do any kind of quantitative analysis. But it was clear that Mr. Ryan's latest proposals had the same general shape as every other proposal he's released: huge tax cuts for the wealthy combined with savage but smaller cuts in aid to the poor, and the claim that all of this would somehow reduce the budget deficit thanks to unspecified additional measures.

Given everything else that's going on, this latest installment of Ryanomics attracted little attention. One group that did notice, however, was Fix the Debt, a nonpartisan deficit-scold group that used to have substantial influence in Washington.

Indeed, Fix the Debt issued a statement — but not, as you might have expected, condemning Mr. Ryan for proposing to make the deficit bigger. No, the statement praised him. "We are concerned that the policies in the plan may not add up," the organization admitted, but it went on to declare that "we welcome this blueprint."

And there, in miniature, is the story of how America ended up with someone like Donald Trump as the presumptive Republican nominee and possible next president.

It's all about the enablers, and the enablers of the enablers.

To put it bluntly,

the modern Republican Party is in essence a machine designed to deliver high after-tax incomes to the 1 percent

. Look at Mr. Ryan: Has he ever shown any willingness, for any reason, to make the rich pay so much as a dime more in taxes? Comforting the very comfortable is what it's all about.

Were the Replicants to win control of each our three parts of government (Executive, Legislative and Judiciary) then we can kiss good-by to any progress towards repairing the nation of its overbearing Income Disparity. Which has incarcerated 15% of our population into an existence below the Poverty Threshold ($24K yearly, family of four) since 1965.

Hard to believe that? Yes, it is, so see the Census Bureau data: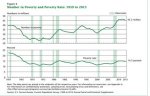 Fifteen percent of our population is nearly 50 million American men, women and children - or about the size of California and Illinois combined ...


__________________________