Joined

Sep 24, 2013
Messages

2
Reaction score

0
Gender

Undisclosed
Political Leaning

Other
Ok. One big question I think is something all politicians and people interested in politics should ask themselves at some point in their lives.
Intro:
In my definition - politics is IDEALY a mechanism which allows for the decisions made in society to reflect the wants/needs of the largest possible population of that given society. I am of the opinion that for a variety of reasons politics in general, globally, no longer achieves this function. But that is not the point of this thread and I'd rather discuss YOUR opinions and ideas than mine
The setting:
You are the "ruler" of a planet just discovered. Its geography and resources are identical to that which we have on earth now. The population is 8 billion of mixed age group who have no prior conditioning (no values, expectations, culture). The technological power and scientific knowledge is also identical to that which we have today.
The question:
You have to create a society (including resource distribution methods, education, culture etc.) which will provide for the human condition globally. What I mean by "human condition" can best be summarised in the following image: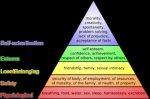 Notes:
. Any complaints with the picture provided regarding an explanation of the "human condition" are relevant arguments.
. Bear in mind all the technological capabilities of the human race - i believe this to be an important aspect.
. All ideas, no matter how controversial, should be discussed in a scientific and objective manner with regards to criticism.
. NO ASSUMPTIONS about how society 'should' be run shall be made. Should you make a claim for example "competition is needed to drive a monetary economy" THEN support with evidence. "Because it's common knowledge" is NOT evidence.