Joined

Nov 16, 2017
Messages

4,390
Reaction score

1,356
Gender

Undisclosed
Political Leaning

Undisclosed
Over a seven day time period, I sampled each news website once in the morning and counted the racial references. The news sites were chosen based on their "mainstream" appropriateness. We need to know which races to focus on. Native Americans weren't included in the study, as America considers them already worthy of segregation. Here are the totals: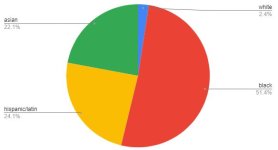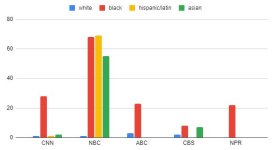 A few standouts:
1. NBC singlehandedly skews the results by having a daily section on the major races, "NBCBLK", "Asian American" and "Latino". I'll be reformulating the results without NBC.
2. Whites aren't mentioned much, but this is because whites are considered the norm. Whites are like a plain blank wall, and the other races are like the paintings that bring everything to life.
3. Not surprisingly, Blacks are the most overrepresented group, and this will only increase when NBC is taken out of the equation.
4. Without NBC, Hispanics were mentioned once in the entire week, it was by CNN.
5. NPR's only racial mentions were 100% Black.