Conservatarian
DP Veteran
Joined

Sep 28, 2011
Messages

11,418
Reaction score

6,579
Location
Gender

Male
Political Leaning

Conservative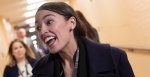 Ms. Ocasio-Cortez, the former craft drink bartender, has emerged as the "new and improved" far left spokesperson - emerging into public awareness when the media found the young woman of color a rising "star" - Say, before the election did you catch the Vogue magazine writeup, oozing over her Victor Glemaud sweater and a yellow Moleskine notebook?
Anyway, she has everything going for her - educated, able to speak without an accent, reputedly smart, clean, knows a lot about bartending, and some think her pretty (in an ethnic sort of way). She has only one glaring flaw - she's a confirmed ding-bat.
Now being a public ding-bat is not unusual among politicians of prominence and accomplishment - Nancy Pelosi, Harry Reid, Joe Biden, and Donald Trump are also well known for saying off-the-wall crazy stuff, but its not so common to hear stuff from "rising star" young political neophytes, that if heard from elders, might be considered nearly senile.
And like Trump, twitter has become her record of choice, one that routinely demonstrates her appalling dumbness. Her latest "analysis" missive to her followers being this:
"$21 TRILLION of Pentagon financial transactions "could not be traced, documented, or explained."
$21T in Pentagon accounting errors. Medicare for All costs ~$32T.
That means 66% of Medicare for All could have been funded already by the Pentagon.
​
And that's before our premiums."

Taken from an article in the hard left "The Nation" the poor girl can't understand the article, and she is so completely unfamiliar with the workings of the US budget she is unable to see her own error.. Somehow, in her whack-a-doodle brain she thinks chronic gimmicky book-keeping equals "free unspent money" for Medicare - a fact that is ludicrous on its face when you realize that the US has not spent 21 trillion (total) on the military even if you add up all the years from the founding to today, which totals 18T. And they have spent far less than that in the audited period of the last 20 years.

What is particularly sad is that Ms. OC, early in her campaign, often suggested to interviewers that she needed to do more research before giving a coherent answer. Today, under the hubris of winning, no such intelligence is required.

​

How does someone this inexcusably dumb graduate from a decent four year college - especially if she really did get a degree in economics?