Joined

Jan 22, 2019
Messages

15,605
Reaction score

5,738
Gender

Undisclosed
Political Leaning

Undisclosed
Now: Please think of this:

Right Now

;

I think Trump, Republican and Putin

are in cooperation

on the stuff Putin is doing regarding Ukraine. (I'll make Thread Post on it)

Trump's comments regarding what Russia is doing, has not criticized or stood against it, he want to play it off like it's just a European matter. That should tell people much more than many have given consideration to think about. His talk of a European Problem, is basically nothing more than an endorsement of Putin's actions.

Think back: Trump praised Putin for 4 yrs, Republican backed it!!! Ukraine President wanted a meeting with Trump, Trump would not give him a meeting, but the day Zelenskyy met with Putin, the VERY NEXT DAY.. Russian Lavrov was in the White House, standing behind Trump's desk on Trump's right hand side. And Zelenskyy NEVER GOT THE MEETING HE REQUESTED. Trump played games with the Aid money until he got busted for it and impeached.

Now, the GRAND DISTRACTION is Russia lining up around Ukraine... to thwart Biden's Agenda and create and take attention from our Domestic Concerns. Republican like Paul, already lining up to try and block anything Biden considers to impose penalty on Russia, no Republican are standing up speaking out against Russian Aggressions. Trump and Republicanism influences are all over this with Putin and with Putin's blessing for their silent supportive endorsements !!!!

_____________

The good thing with Biden speaking is:

he uses "intel" not just American Intel, but NATO Intel, when he speaks

. He is not going to be a Bush and Jump into something like America will go it alone, as Bush did and he is not going to threaten nations to go along with an America created agenda, its a NATO Agenda. Biden understands not only is it a NATO concern, but Non Nation Nations that have interest to not support Russian Aggression. China sits back... waiting on a "Profit Windfall" from any Supply Needs that Russia or National Nations seek to buy, the Arabs know if Russian Oil does not flow, their own becomes more valuable.

Garland is not going to be sidetracked by any of it, because these are Civil and Criminal Cases that span across multiple states, dealing with multiple matters.

Thus screw up Republican are engaged in will not come out well for Republicanism and it's desperation for Autocratic White Nationalism of Wealthy White Male Dominance, because the system of White Nationalism will come tumbling down. Not only America, but the World has had enough of it.

Take note of the Right Wingers in these Forums, they are as Pro Russia as they can be without outright saying it, but their commentary tells what they don't say with their typed commentary in direct terms.

From the point of Trump trying to Extort Ukraine, this has been part of Trump-Putin and the matter of Putin's want to grasp Ukraine, and keep Ukraine from Joining NATO. Because Ukraine is on the border of Russia. This is not something new. They think they can hoodwink and play Biden, but what they ignored was the principal of NATO as well as the regional nations that have no interest in seeing Russian Expansion. Many Nation that made up the Soviet Bloc do not want anything to do with any recreation of such.

Look At The Map

Russian has a lot of land but a very large portion is not habitable.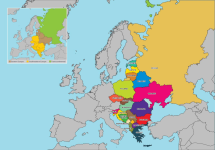 Roughly
68 percent
of people in Russia live in the European part of the country, which makes up only 20 percent of the whole territory. The rest of the land accommodates the remaining 32 percent, lowering the population density dramatically compared to the overpopulated urban areas.
_
People should remember, Steve Bannon speak 3 yrs running around Europe trying to build up a Right Wing White Nationalist Coalition.... Even nation has been and is alerted to the white nationalist agenda, and of the Global Makeup of the World, too many places have suffered over centuries from the atrocities of white nationalist ideology, and they have information and knowledge and means, to stand against that every happening again.
​