Joined

Sep 16, 2009
Messages

2,922
Reaction score

343
Gender

Male
Political Leaning

Conservative
Hmmm, the trendy-left Lordships'll be ordering them their own banknotes next! Aren't they lucky people....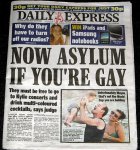 http://www.express.co.uk/posts/view/185617/Now-asylum-if-you're-gay/
We've come a long way since physical homosexual activity was legalised, with homosexuality generally accepted as a fact of life for many people. So far, in fact, that the sexual orientation is now treated as an entitlement to immigration, qualification for employment, basis for an entire educational syllabus, justification to be given a swimming pool to yourself, reason not to be deported, and much more!
I'm not the sort of person to think someone should be bullied, beaten up or denied jobs just because their mating habits are non-reproductive. What they get up to behind closed doors at night is up to them, as long as kids aren't involved (even in the classroom), it's not paid for from the public purse and I don't have to hear about it. It's all for equality and tolerance, right?
But Equality means that the sexuality of one group alone should not be a pretext to hold open the immigration doors. God knows people are suffering across the world due to persecution of one sort or another, but we just don't have the room to rescue them all!
____________________________________________
The Express' own editorial puts the common sense on this issue as well as anyone.
(Not to mention their view on the 'fuhrer' of Canterbury Gypsy Support Group, who, like Hitler before him, believes that living space should be forcibly taken from other people if he doesn't think he has enough for his own people!)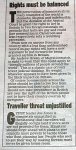 _____________________________________________
BOOK REPOSITORY:
What's more, who's to say millions of chancers won't be clamouring for asylum on the basis that they're a bit like John Inman:
Pakistani woman given asylum because she's 7ft 2in tall | Mail Online
But once they're safely here, they'll know that the nation's schoolkids will be forced to hear all about them, even the unfounded historical rumours. Impressive special treatment, especially as more and more kids don't even know who Churchill is nowadays!
Parents face court action for removing children from gay history lessons | Mail Online
And not just the kids getting their 'noses rubbed in Diversity'!
Navy's gay drama classes | The Sun |News
Oooo, can't complain about skinny dipping sessions!
They're gay!
Express.co.uk - Home of the Daily and Sunday Express | UK News :: Outcry over naked gay sessions in public Pool
Do kids get taught about toilets, bushes and pools used as haunts too?
A cat's eye view: Gay Swimming Pool
action4men
Can't think that's hygenic or the best way to spend public money, but who am I in the grand scheme of things:
Cruising or cottaging for gay sex in Surrey
I suppose there's not enough tailing jobs to go round, so it's time to ring-fence a few others:
Complaint over charity's gay-only job advert - from Pink News - all the latest gay news from the gay community - Pink News
Quota for Homosexual and/or Atheist Clergy? | The Brussels Journal
'Choose women, gay and disabled judges over white, middle-class men' - Times Online
Met advertises for lesbian and gay police to guard the Queen | News
'You're out of date - Not gay, female or black enough'
:
David Cameron's plan to impose more women, gays and ethnic candidates | Mail Online
One size fits all, or not at all mate:
And if you thought WPCs in burqas were ridiculous | Mail Online
Dublin:
GreenockMorton.org > Pub Owner Defends 'gays Only' Entry
Worse in America...
Obama czar's 'homo-genda' proposed for U.S. schools
JSTOR: An Error Occurred Setting Your User Cookie
gays to redress the balance, using employment quotas if need be. Unfortunately, no proof is offered to show that quotas will improve matters here. ...
<quote from Google search return>
Last edited: