Outer space potato man
DP Veteran
Joined

Feb 6, 2010
Messages

94,261
Reaction score

46,682
Gender

Male
Political Leaning

Undisclosed
HOUSE BILL NO. 2810
3. The offense of trafficking abortion-inducing devices or drugs is a class A felony if:
(1) The abortion was performed or induced or was attempted to be performed or induced on a woman carrying an unborn child of more than ten weeks gestational age;
(2) The abortion was performed or induced or was attempted to be performed or induced on a woman who has an ectopic pregnancy
So, this isn't some oversight or bad wording where they forget to make an exemption for a life-threatening, non-viable pregnancy. They specifically call out ectopic pregnancies. This asshole: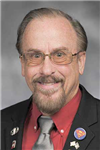 Missouri Rep Brian Seitz
Wants to
kill women.
Ectopic pregnancies aren't viable, and they are extremely dangerous to the woman. This guy wants to make it a felony to save that woman's life.
Look at that face and tell me if you would be at all surprised to find out he's a member of the KKK.