Joined

Apr 29, 2012
Messages

17,319
Reaction score

7,851
Location
Gender

Undisclosed
Political Leaning

Socialist
This seems to be not only a violation of free speech but also freedom of religion. The SCOTUS has ruled several times on similar laws and has always found them to be un-Constitutional.
The pledge of allegiance to the national flag is probably the least controversial aspect of the proposed law but the parts requiring teachers and student to recite before their class the Ten Commandments and the pledge to the state flag pose a few problems.
Many in Mississippi have been trying for some time to change the state flag but so far -- no luck.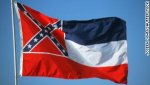 You can see why pledging allegiance to this flag might be an issue for many Mississippians.
Mississippi May Mandate Ten Commandments and Pledges to State, U.S. Flags in Schools

JACKSON — Mississippi law would require schoolchildren to recite the Pledge of Allegiance and see the Ten Commandments be displayed on public-school walls under new bills in the Legislature this session, requirements that may violate the Establishment Clause of the First Amendment. One would also require Mississippi teachers to teach Mississippi's pledge glorifying the state flag, which contains the Confederate battle emblem in its canton.

#State Rep. Credell Calhoun, D-Jackson, introduced House Bill 427, which would amend the Mississippi Constitution to mandate that public-school teachers and principals must display the Ten Commandments. It would require that school officials display the religious laws "on an appropriately framed background with minimum dimensions" of 11x14 inches in all classrooms, auditoriums, and cafeterias, alongside the motto, "In God We Trust."

#Students would have to recite all 10 commandments within the first hour of class each morning. Any teacher or student who objects to reciting it would be excused "without penalty" from reciting the pledge.
Yeah, that "without penalty" part would work really well :roll: